Since we spent much less of our time at EGX 2015 queuing than we have at previous years, that meant we didn't have as much time to look around aimlessly as we might do. That said, there were still some booths which really caught our attention for their statues, giant figures, dressed mascots or brilliantly over the top set pieces. Here are some of our favourites.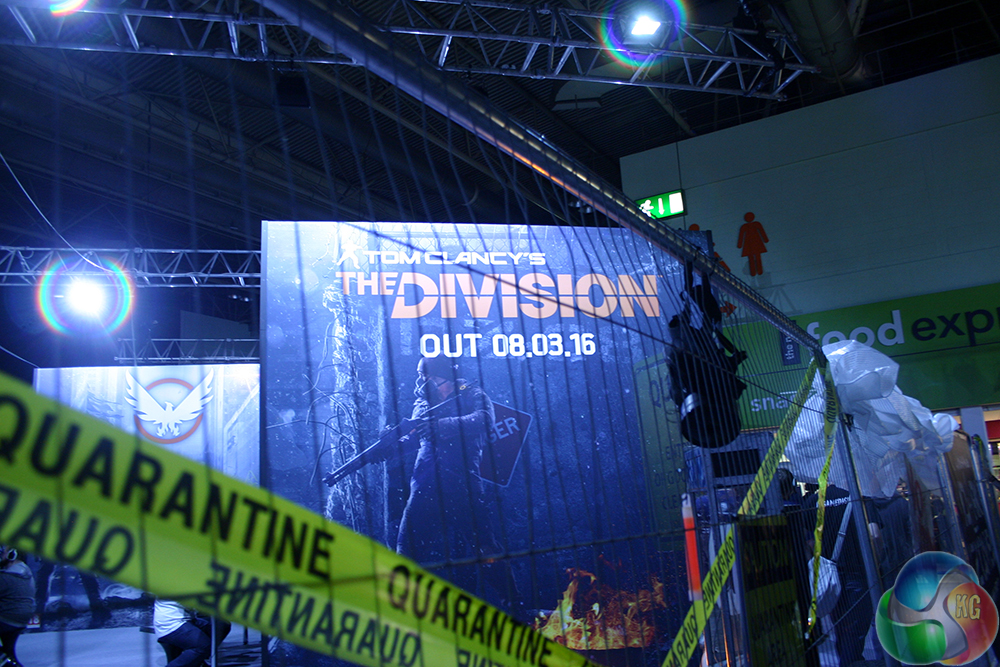 EGX banned booth girls years ago, so it's great to see people being more creative with their head-turning designs. Like building a giant protective barrier complete with police tape and warning signs around Tom Clancy's The Division.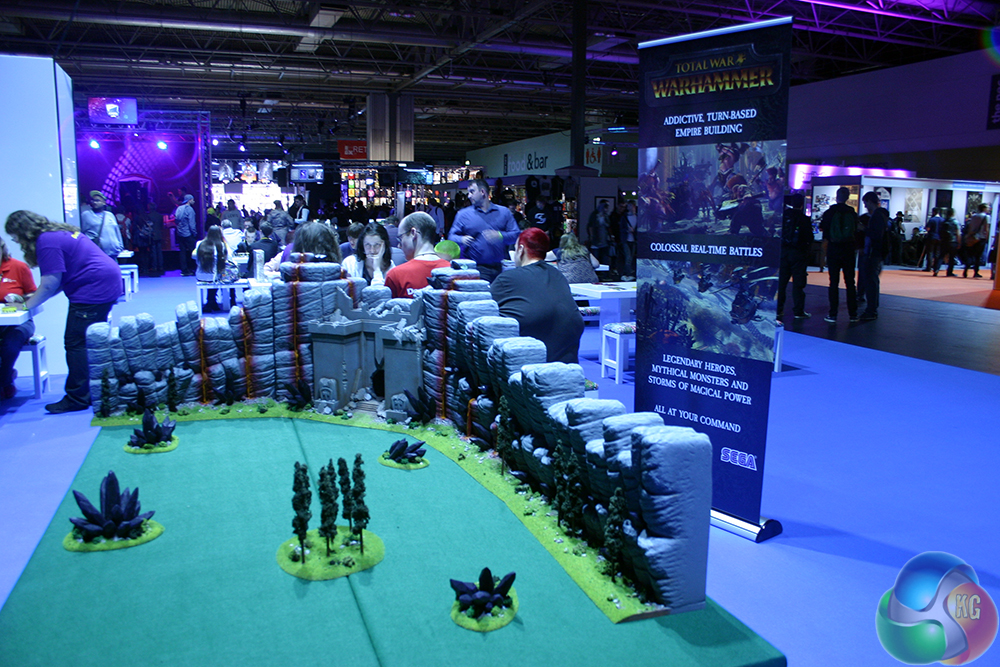 The Total War: Warhammer booth had a lot on show, but one of the more eye catching areas was one of several large tabletop Warhammer Fantasy displays. You could go and have a game and learn the rules of play if you wanted and the paint work was pretty good.
It is perhaps noteworthy that Creative Assembly was using the last generation rulebook and models. No Age of Sigmar in sight.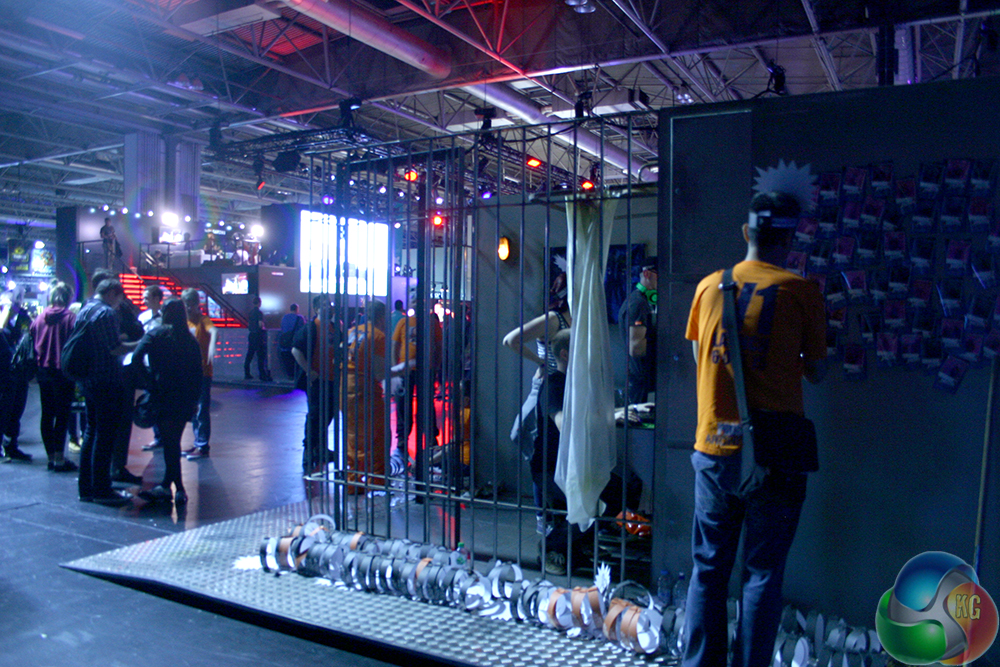 Introversion had several cells set up for people to try out its management sim, Prison Architect. It was also handing out cardboard headpieces for people to wear showing various states within the game, and there was a wall of 'mugshots' of people who enjoyed it.
Assassin's Creed Syndicate probably had the most impressive set pieces. A whole section of the 18+ area was set up to look like 19th century London, complete with unmanned stalls and a giant clock tower. There was even a signpost to help direct you to different games, paint up like it was from Victorian style.
Nintendo had a lot of cool stuff on show, but one of its more popular areas was the live-play screen, which also periodically did give-aways of various swag, including Amiibos.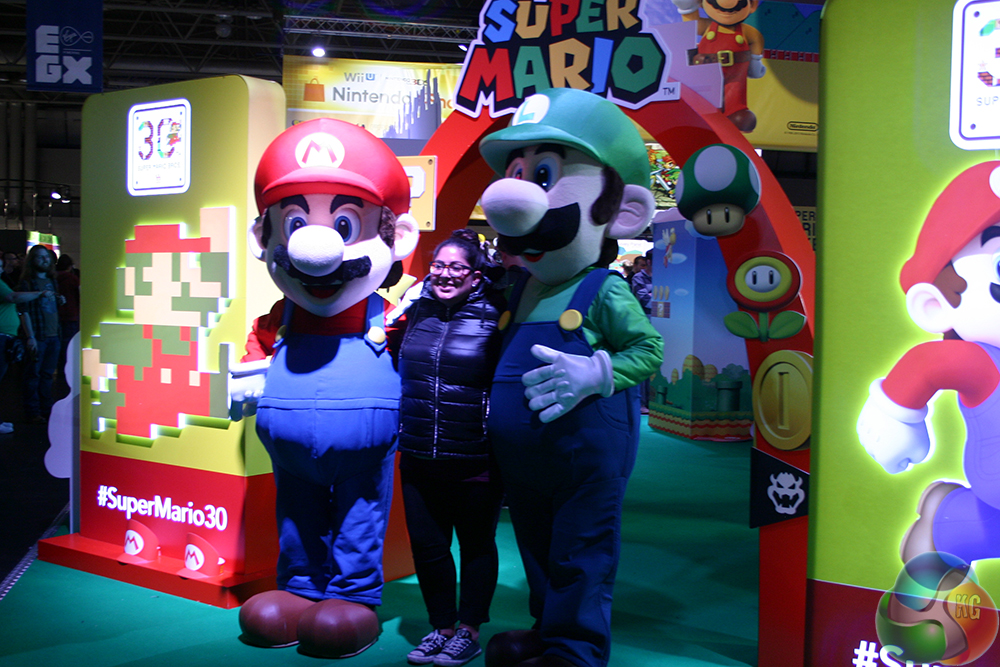 There were also a couple of celebrities taking snaps with fans.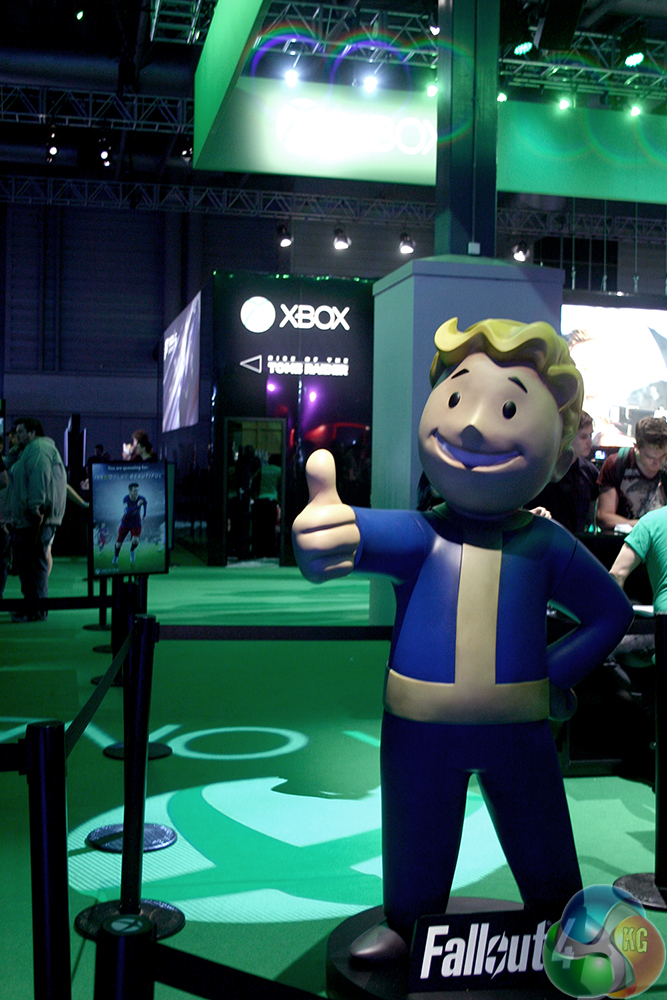 Microsoft went with static statues for its booths, running with the classic Fallout figure at one end and a few friends at the other.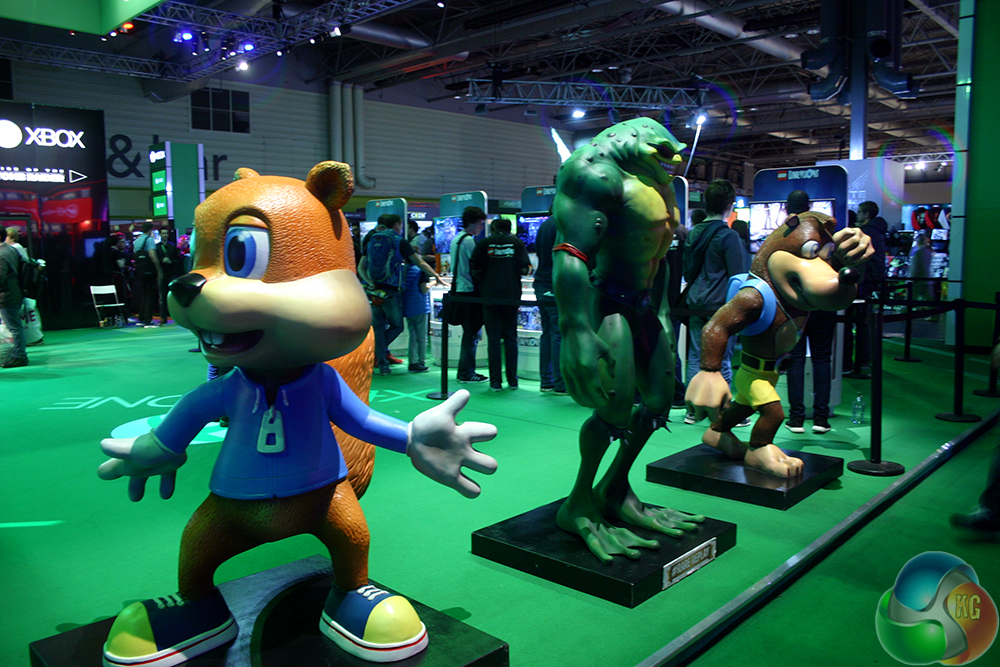 Although the Xbox booth had a lot of games on show, AAA and indie, one of its big focuses at these sorts of events continues to be the Rare Replay collection. To help celebrate that, there were a number of giant statues of some of the collection's more iconic characters. If only they talked, imagine what Conker would slur out.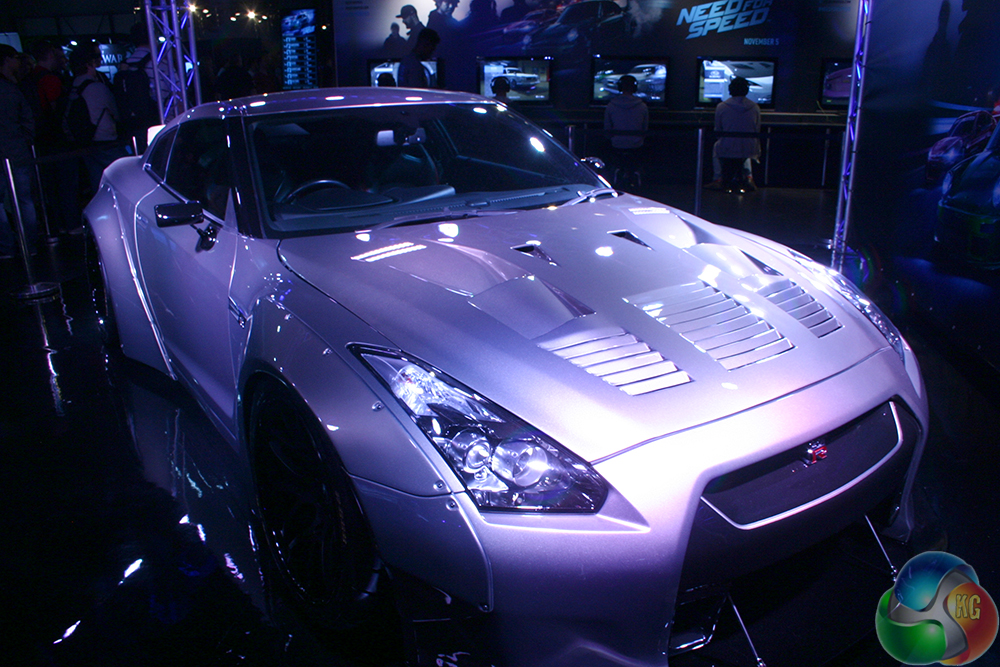 EA opted for a heavily modified Nissan GTR to help draw in crowds for its showing of the new (rebooted) Need for Speed.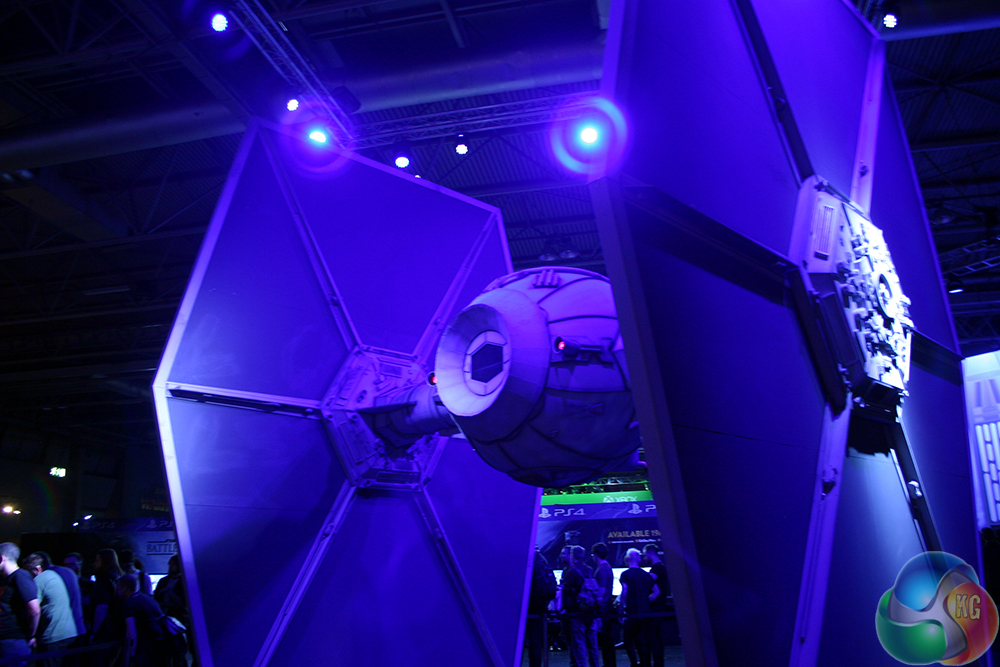 It did however save the big guns for its Star Wars Battlefront booth, which featured this giant Tai Fighter.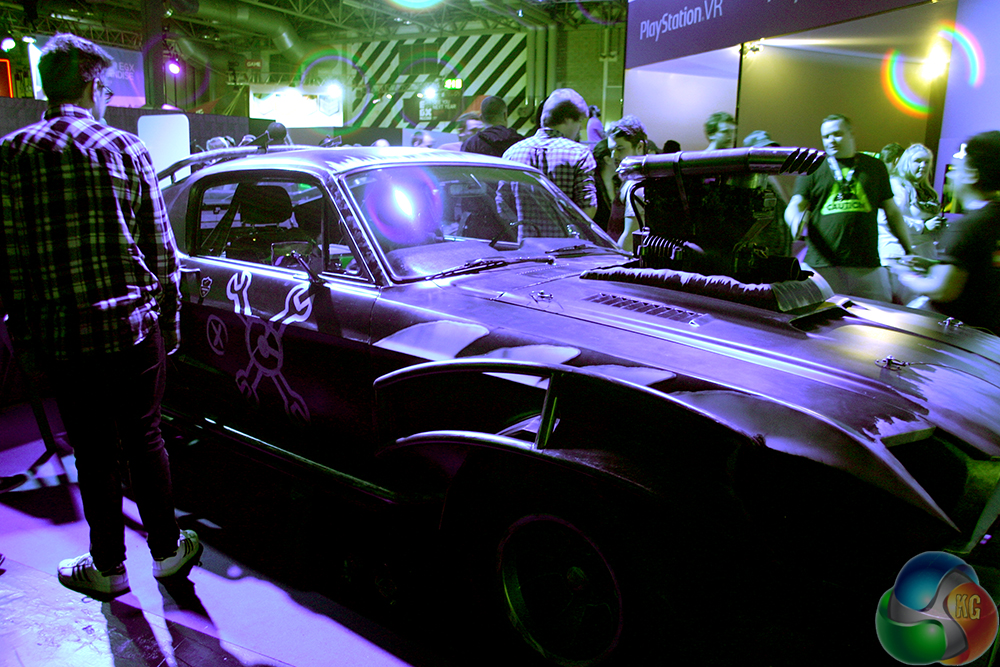 Warner tried to up the vehicular ante with a showing of Mad Max's classic car, the V8 Interceptor Pursuit Special. You be the judge if it succeeded.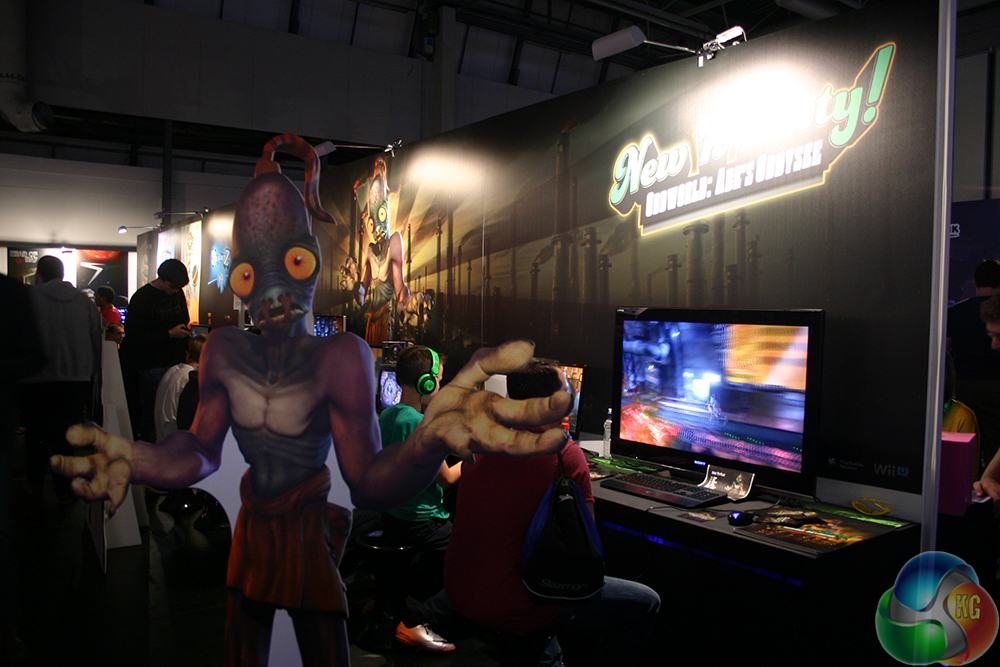 Although – understandably – the indie booths don't tend to be quite as busy with extras as the AAAs, this one from the guys remastering Abe's Odyssey and Exodus had a life size cut out of Abe himself, as well as a PS1 set up showing the original game in all its glory on a 14″ CRT TV.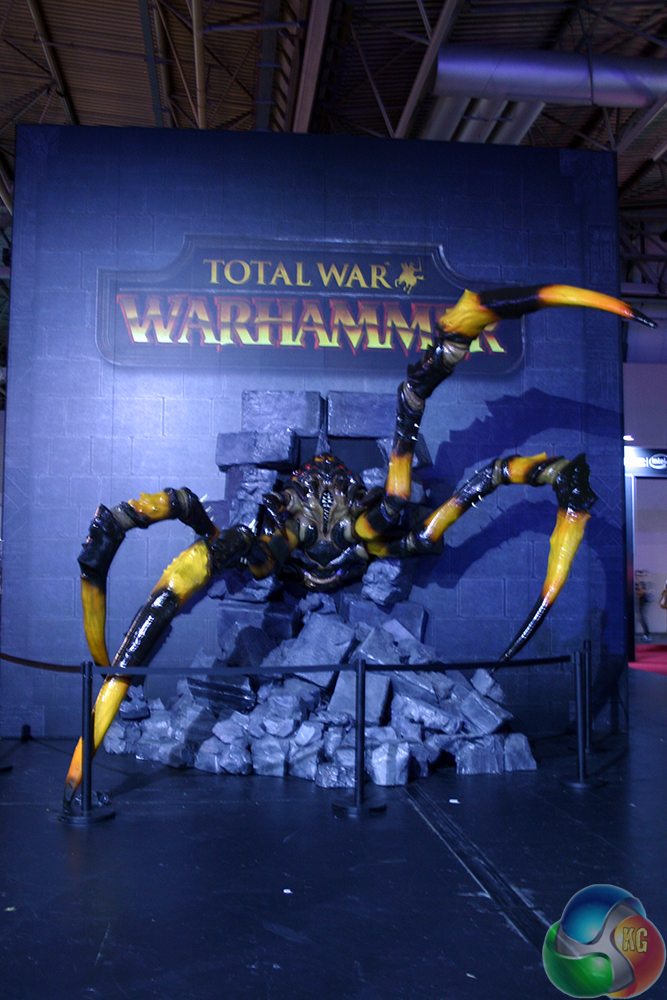 As cool as many other statues were though, this one piling out of the Total War: Warhammer booth was the most impressive. Standing at around 15ft tall, it dwarfed almost all of the others and was certainly intimidating. That spider also proved very problematic in my play of the available Total War(hammer) level. It couldn't shoot my gyrocopters though.
Sucks to be him.
Discuss on our Facebook page here.
KitGuru Says: There were a LOT of cool booths at this year's EGX and the indie stations upped their game again as they do every year. The artwork on display was fantastic. As usual, as much as we loved these big booths, it was at those smaller indie games where we spent the majority of our time, so look forward to some coverage there soon.