Although Oculus is the darling of the virtual reality world, HTC's Vive headset has been making waves since it started shipping out to developers who wanted to build games and experiences for its commercial release. However the general public have had a chance to play around with the headset and its accompanying hand controls too, at shows like  Multiplay's Insomnia series, and the ongoing i56 is no different.
With Oculus VR not attending this rather small show – by comparison of some  of Insomnia's others and their contemporaries – HTC is the only mainstream VR hardware maker on show. There are a couple of cheap, smartphone VR headsets and a 3D screen overlay builder, but HTC is the VR booth to visit if you want to get a (developer kit) version of what commercial virtual reality will be like.
And you should, because the HTC Vive demonstrations are fantastic.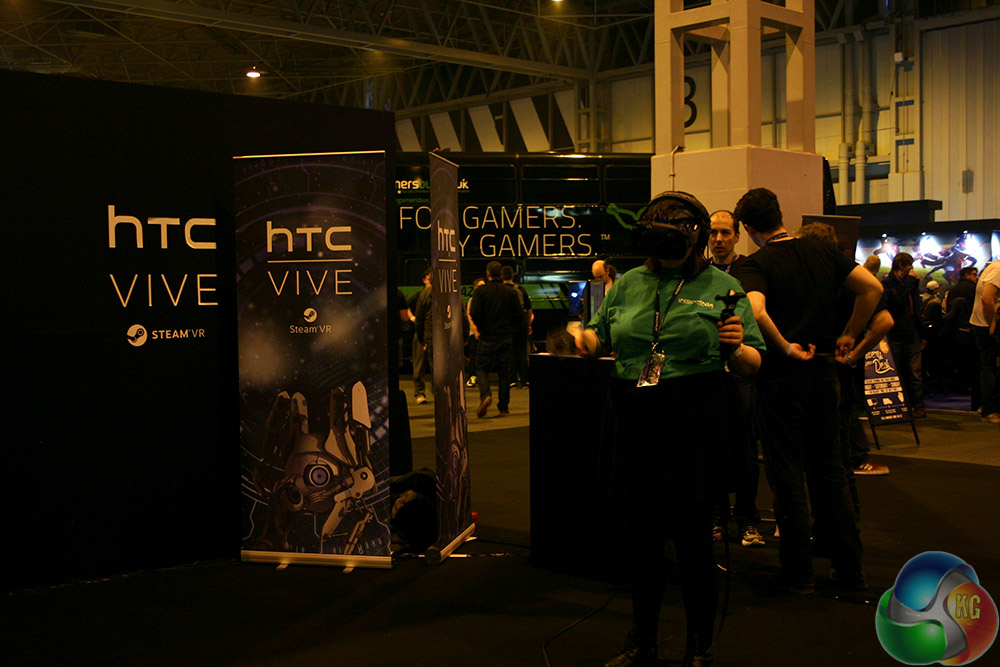 The demos you get to play through in a over-too-quick 15 minutes, include a quick store/hub-space that lets you get a feel for virtual reality and where you get your first look at your floating hand controls. From there, you're whisked under water to explore the deck of a sunken ship, and a close interaction with a whale, before gunning down zombies with an assortment of weaponry.
[yframe url='http://www.youtube.com/watch?v=uEnUIGiPeOU']
Unfortunately the TiltBrush 3D painting application wasn't working quite right when I went in for my  turn, so I wasn't able to run through that creative looking experience, but I did get to try out the Aperture Robot Repair demo, which was stunning.
[yframe url='http://www.youtube.com/watch?v=q4zr5Eq_F5g']
Again, it's a saddeningly short experience, but what you do get to see and play with is wonderful. You find yourself within the Aperture Science robotic repair facility and are directed to open and close a few drawers to find your tools and to test out the motion controls, because of course you are grabbing the drawers with your hands, or your virtual controllers at least.
Those drawers open up to reveal various things, the most fun of which is a miniature office environment, complete with stick figures that panic at your prescence and trash their office… before summary incineration. After that you actually do have to take a stab at repairing a robot. It's Atlas! He's not looking great, so you take him apart – ignoring the screams of pain – and take a look at his innards, all of which are wonderfully displayed in minute detail.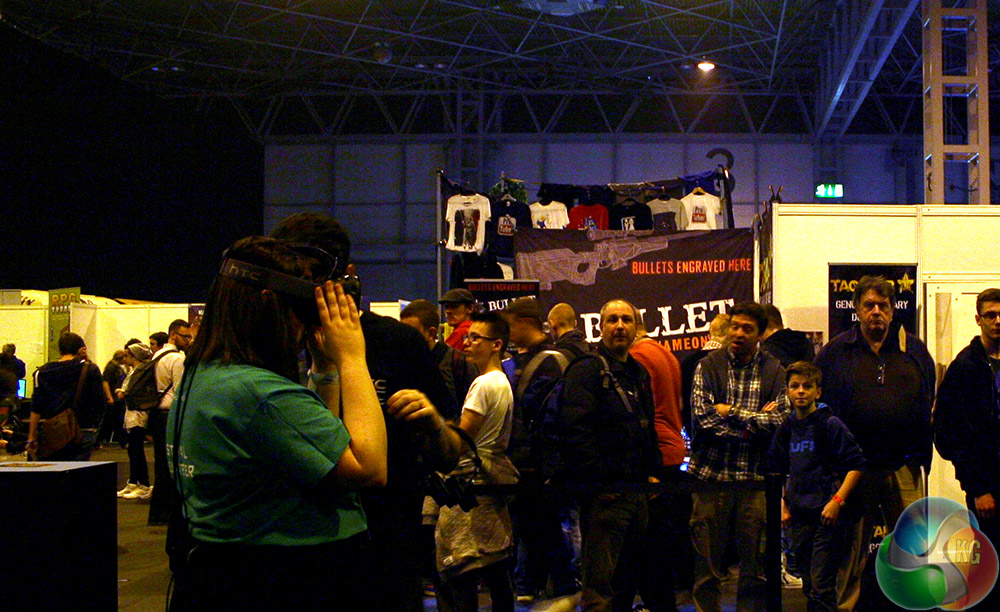 The downside to having a go before a journo: you're going to have your picture taken.
What happens after might be worth saving for when you eventually try it out yourself, but the video above will give you a good break down if you want to see the whole thing. Just know that no video on a two dimensional screen can do it justice.
As for the Vive headset itself, it's a great piece of kit. The cable is stupendously long, allowing for a large wandering area – though in reality you don't move around as much as you might think. It was refreshing to have so much space though, and the lighthouse tracking system located in the 'corners' of the open area, only had a couple of hiccups during our testing.
The lighthouse tracking system has an impressive range, though did occasionally drop the hand controls.
We were told this was because of the overhead lighting and electronic interference of a  show event, though it did make us wonder if these teething issues are part of why the Vive was recently delayed from its projected December launch to April 2016.
However most of the  time it worked great and the  motion controls and free movement go a long way to aiding presence. The screen door effect is much improved over the DK2, though I can't speak for more contemporary Oculus headsets and there wasn't even a hint of nausea during any of it.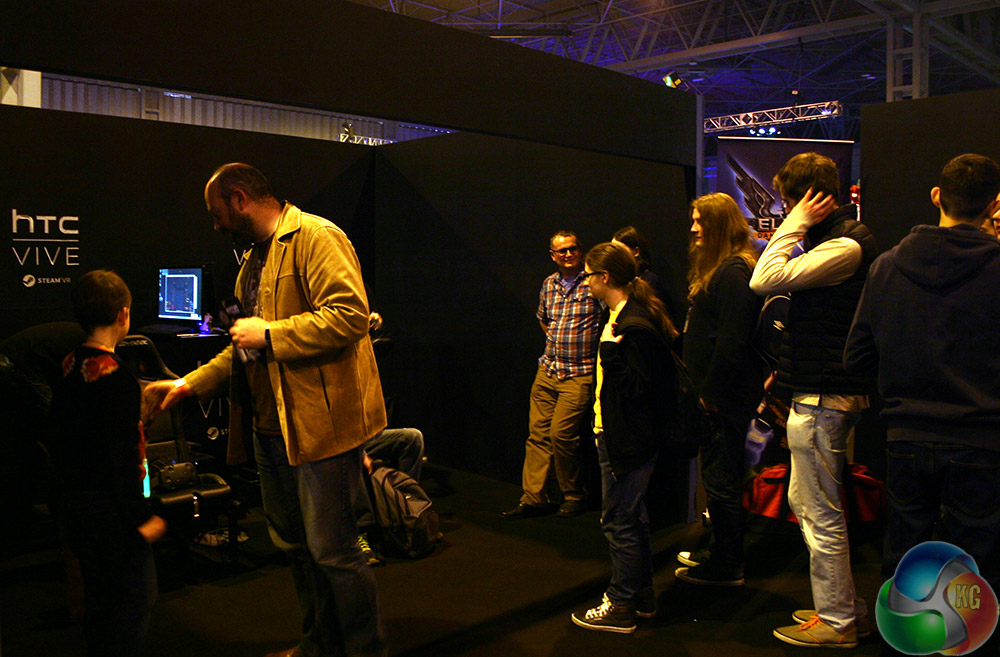 Although you have to sign up to try the standing Vive demos, you can queue up to try Elite: Dangerous, but it is seated.
All in all, it's our must see experience of Multiplay's i56 LAN,  just make sure you get there early, as you have to sign up at the start of the day and register yourself, and almost all of the slots are gone within a few minutes of opening.
Discuss on our Facebook page, HERE.
KitGuru Says: This only makes me that much more excited for what we can expect when commercial VR lands. It really is going to be amazing.