Although AMD has just announced a plan to reduce its workforce by 7 per cent and align its real estate footprint with its reduced headcount, the company has no plans to reduce spending on research and development (R&D). All the cuts will be made in different segments. While it is a good news that AMD has no plans to cut-down R&D costs, it is obvious that without efficient sales, marketing and other operations it gets harder to sell products.
"From an R&D standpoint, it is very clear that those are the most important investments, the ones that will fuel long-term growth in both [computing and graphics] segments," said Lisa Su, chief executive officer of AMD, during the company's quarterly conference call with investors and financial analysts. "So, those [spending] will continue. We do believe that there is opportunity to streamline in the operational side.
Due to slowing demand for personal computers, sales of AMD's microprocessors and graphics processing units have been dropping for a number of quarters now. On Thursday AMD indicated that sales of its microprocessors, graphics processors and chipsets dropped 6 per cent sequentially and totaled $781 million in the third quarter. As a consequence, the company decided to reduce its workforce by 7 per cent.
During the conference call AMD implied that since sales of its computing and graphics products are stagnating or declining, it needs to address the issue and optimise sales, marketing, administrative and other structures built around these businesses.
"When we look specifically in the computing and graphics business, relative to the overall infrastructure that was built around these two businesses, the businesses are [getting] smaller than they were before. So, there is significant opportunity to streamline how we operate, how we go to market, and just the overall infrastructure that we have."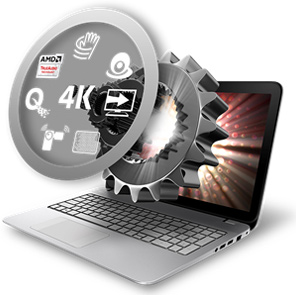 While the company made it clear that it will not cut-down its R&D spending intentionally, it should be noted that the company can invest a certain amount of its revenue in R&D. For example, back in the days (in 2007 – 2008 time-frame) AMD spent 25 – 30 per cent of its quarterly revenue (or $430 – $501 million) on research and development (keep in mind, though, that back then AMD owned fabs and had to invest in process technologies). In the third quarter of 2014 the company spent approximately $278 million, or 19 per cent of revenue, on research and development. Therefore, while the company may not specifically cut spending, low revenue automatically means decreased R&D expenditure.
AMD uses technologies it develops for central processing units and graphics processing units to build solutions for enterprise, corporate, embedded and semi-custom product segments, the businesses that AMD pins a lot of hopes on. However, without strong sales and marketing, AMD's potential to earn revenue will decrease and therefore the company may have to cut-down R&D spending.
Discuss on our Facebook page, HERE.
KitGuru Says: While financial discipline is important for every company, cutting down too many costs and reducing headcount too often impacted AMD negatively a number of times in the past. It remains to be seen what will happen to AMD this time…