Bloodhound SSC has released a video showing the test firing of its 1,000mph hybrid rocket motor. The engine is designed to power the Bloodhound SSC vehicle into the record books and past 1,000 mph sometime in 2016.
[yframe url='https://www.youtube.com/watch?v=22_4ZGGnb_g']
While the first stage of the Bloodhound will use a Rolls Royce EJ200 engine (also used in the Eurofighter Typhoon!) once this has brought the vehicle up to speed, three hybrid engines like the one in the video above will kick in, each delivering 30 kN (or three tons) of thrust and this will blast Bloodhound to speeds of over 1000mph.  All the while this Intel Atom powered car will have to stay in one piece and on the track at Hakskeen Pan in South Africa.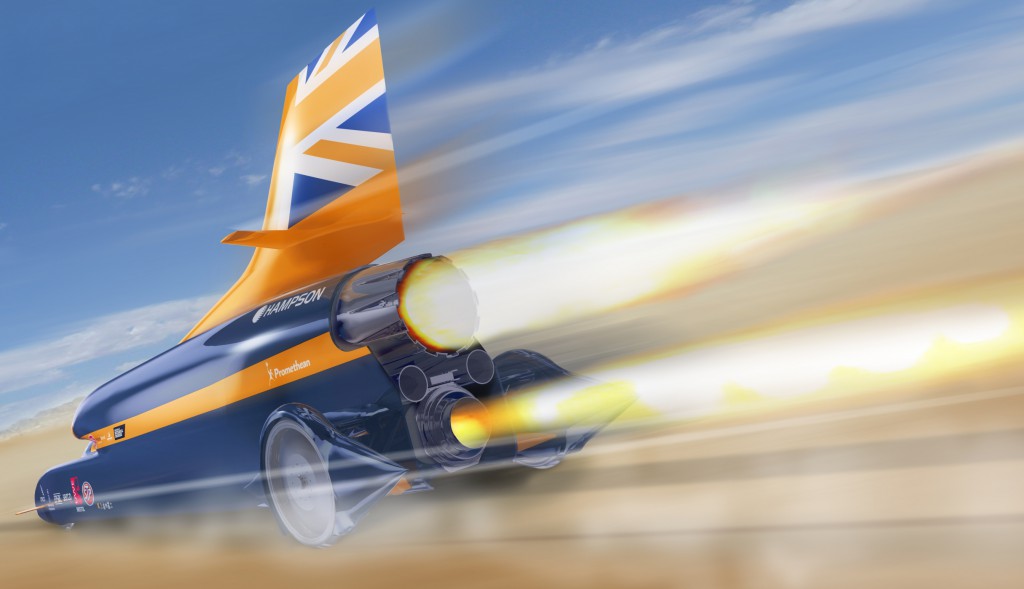 The team working on it plans to run a test of the car and systems first, with just one of these hybrid engines, in 2015, so that will be the next milestone to look out for. In the meantime Nammo, the Norwegian company which manufactures the hybrid rocket engines, will be further developing the technology for other uses. Those include sounding rockets and launchers to send small satellites into orbit from Andøya Space Center in Northern Norway.
Discuss on our Facebook page, HERE.

KitGuru Says: Just imagine the whiplash you would get from 3 of these kicking in 9 tons of force! I can't wait to see this happen but I sure wouldn't want to be driving that thing. Anyone want a go in it?
Image source: Hyde Group