Major semiconductor companies spend billions upon billions of dollars each year and are dependent on massive orders to stay profitable. With that in mind, the halting of all new orders from Huawei, one of the world's biggest smartphone companies, could have had an impact on TSMC's bottom line. As it turns out though, all is well, as the company is projected to achieve revenue growth in 2021. 
In May of this year, TSMC announced plans to build and operate a factory on US soil. This project alone is expected to come at a cost of $12 billion, so it goes without saying that the company is keen on finding different streams of revenue. One of those streams of revenue has been Hi-Silicon, a Chinese fabless semiconductor company fully owned by Huawei. However, the trade war between the US and China and the rising tensions has forced TSMC to halt new orders from Huawei.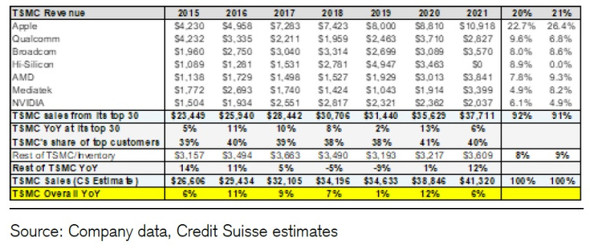 As reported by EEtimes (via wccftech), "roughly 14% of TSMC's revenue is based on the products that the company sells to Huawei". However, even if TSMC is expected to get $0 of revenue from Huawei in 2021 the company is still estimated to grow 6% YoY, according to analysis from Credit Suisse. The predicted growth is mainly based on TSMC receiving increasing orders from its other partners, which includes the likes of Apple, AMD, Qualcomm, Nvidia and more.
KitGuru Says: TSMC is in a strong position thanks to its lucrative client list, although we do wonder how much revenue growth would have been predicted if orders from Huawei were still on-going.