The Google Pixel 2 and its XL variant are set to be revealed next week, as the company is holding an event centred around the devices on October 4th. Ahead of its unveiling, however, full on specifications have begun to appear online, giving us the potential ins and outs of what to expect.
Android Central has managed to get the exclusive on both handsets, which are both set to pack the current-standard Snapdragon 835 processor, 64GB and 128GB storage variants, Active Edge, Pixel Cameras as well as 80-85 percent screen-to-body-ratio.
This information lines up with previous rumours that the new Pixel devices would be opting for a slim bezel design as well as making use of its Google Assistant via squeezable edges.
Another thing that both devices are said to have in common is their ditching of the 3.5mm headphone jack and traditional SIM card slot, instead opting for audio via built-in dual stereo speakers and USB-C, as well as using an e-SIM similar to that of the Apple Watch 3. This allows users to connect to different networks without the trouble of physically replacing the card. Only some markets are said to have the devices shipped with USB-C headphones in the box, however this information might not hold up according to the source.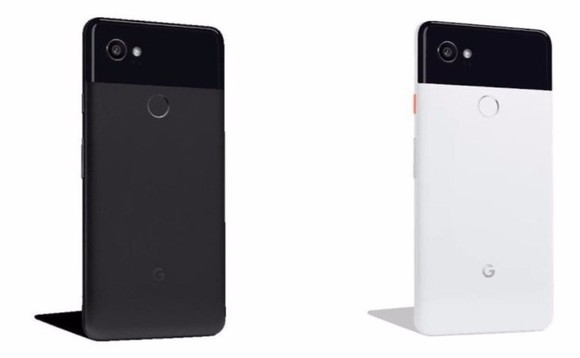 Renders for the potential Pixel 2 and Pixel 2 XL
Just as the original Pixel XL, the Pixel 2 XL will feature a larger battery than most other competition, sitting at 3,520 mAh. The smaller Pixel 2 will only feature a 2,700 mAh battery which is, in fact, larger than the iPhone 8+ which sits at 2,675 mAh but less than the Samsung Galaxy S8's 3,000 mAh.
Other differences between the two devices sees the Pixel 2 sporting a smaller Full-HD display, whereas the XL variant will feature a curved QHD screen.
KitGuru Says: With the positive experience I've had with my Pixel, this makes me want to upgrade sooner if it were at all possible. What do you think about the potential Pixel 2 specs? Are you looking to upgrade any time soon?