Western Digital has been pushing its SanDisk line of microSDs as of late, with one of the latest memory cards offering  400GB of storage. The company isn't stopping there, however, this time pairing up with Nintendo to produce licensed microSDXC for the Switch.
Currently, the two entries to SanDisk's Nintendo line of cards offer a 64GB and 128GB option. This falls a lot shorter than the 400GB offering, however are likely to be much more affordable and market friendly.
"These new Nintendo-licensed memory cards provide significant additional storage for digital content," said Nintendo of America's Senior Vice President of Strategic Initiatives, Tom Prata. "In many retail locations they will be conveniently displayed alongside Nintendo Switch games and accessories."
The cards feature 100MB/s read and 90MB/s write speed, which makes them perfect for gaming directly from the card, however it doesn't necessarily show much deviation from SanDisk's Ultra range aside from the packaging containing licensed characters and the card embedded with the Switch logo. Needless to say, the cards will work in tandem with the Nintendo Switch, leaving one less thing to worry about.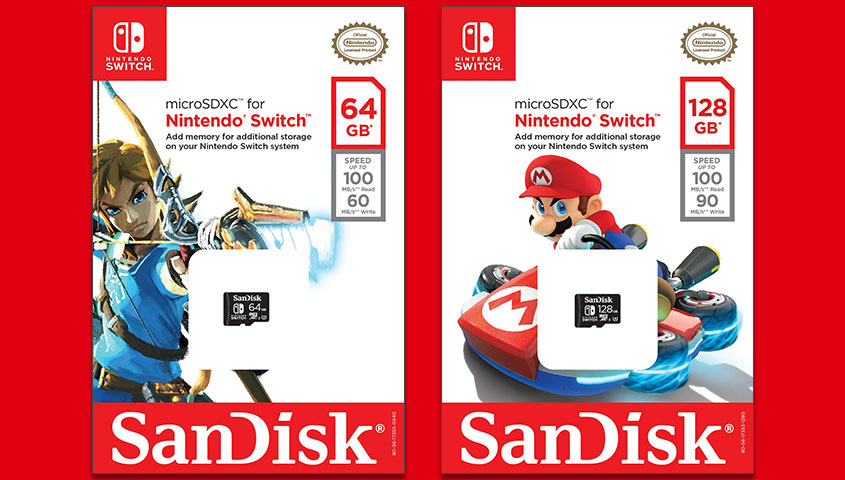 "As more and more amazing games and related content become available for download on Nintendo Switch, our licensed memory cards allow users to quickly and easily expand their storage," said Sven Rathjen, vice president of product marketing at Western Digital. "Nintendo Switch has generated tremendous momentum, and we are thrilled to partner with Nintendo to offer consumers a trusted card for their system."
Pricing and availability is still yet to be determined before its October release, however if it does contain a premium for the characters, that will leave a sour taste in customer's mouths.
KitGuru Says: The packaging is certainly likely to please collectors but other than that, the cards seem like your regular, run of the mill microSD cards already available on the market. Are you more likely to purchase SanDisk's Nintendo cards than the ordinary ones?