Like many other brands during this season, AMD is holding some special deals at the moment, cutting down prices for a range of products. We've already seen some good price drops for Ryzen 7000 CPUs. Now, there are also great deals to be had on previous-gen Ryzen 5000 chips, as well as RX 6000 graphics cards. 
Starting with the CPUs, you can now grab a Ryzen 5 5600X for £169.99 on either ebuyer or OverclockersUK, offering a considerable discount over its price back when it was released. Other Ryzen 5000 processors on sale include the Ryzen 7 5800X for £239.99 and the Ryzen 7 5800X3D for £354.98, both at Scan. The last CPU deal to look out for is the Ryzen 9 7950X, available for £599.99 (a £148.99 price cut).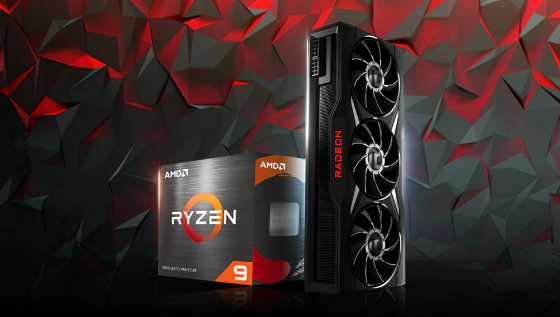 Moving on to the GPU Deals, there are plenty worth mentioning. Starting from the lower end of the spectrum, you can grab an MSI Radeon RX 6650 XT Gaming X for just £308.99 or spend an extra £101 for an Asus Radeon RX 6700 XT 12GB Dual. Next up, we have the Asus Radeon RX 6800 XT TUF Gaming OC for £649.99, the ASRock Radeon RX 6900 XT Phantom Gaming D for £689.99, and the MSI Radeon RX 6900 XT Gaming X Trio for £709.98. Lastly, you can also take advantage of the MSI Radeon RX 6950 XT Gaming X Trio deal, which puts it at £829.98.
If you prefer a complete system over buying separate components to upgrade your PC or build one from scratch, there are also full system deals worth mentioning. First, we have the OCUK Gaming Radiance Bullet (Ryzen 5 5600G, 32GB RAM, RTX 3060) with a £300 discount, reducing it to £999.95. If you prefer something more gaming-oriented in the same price range, the AlphaSync PBA Diamond Gaming Desktop PC 5600X (Ryzen 5 5600X, 16GB RAM, RTX 3060 Ti) for £1049.99 might be worth a look.
For something with a bit more power, PCSpecialist is also holding a deal for its Fusion BF PC, equipped with an AMD Ryzen 7 5800X, 16GB of RAM, and a Radeon RX 6700 XT, reducing its price to £1369. You can also find the OCUK Gaming Vulture with a Ryzen 7 5800X, an Asus Radeon RX 6800 XT TUF Gaming OC, and 16GB of RAM for a special price of £1,799.99.
KitGuru says: Are you planning on taking advantage of AMD's Black Friday deals? If so, what will you get?