Although a number of companies are developing autonomous cars for us to not-drive around in, it may be that electric, autonomous public transport is a better solution. While a number of vehicles are being trialled in the UK, a U.S. developer has a new and innovative design, which uses a lot of 3D printed components.
The vehicle comes out of Local Motors, a company which previously designed the world's first 3D printed car, the Strati, as well as the award winning Swim. The Olli is just its latest development, which looks to seat 8-12 people, provide near-silent electric operation, all without the need for anyone behind the wheel.
The Olli is currently still very much in the concept phase, though there are plans to turn it into a finalised project before long. The fact that most of its interior and plastics were 3D printed allows for Local Motors to perform quick model changes and create prototypes and new parts on the fly, massively speeding up the traditional vehicle developmental process.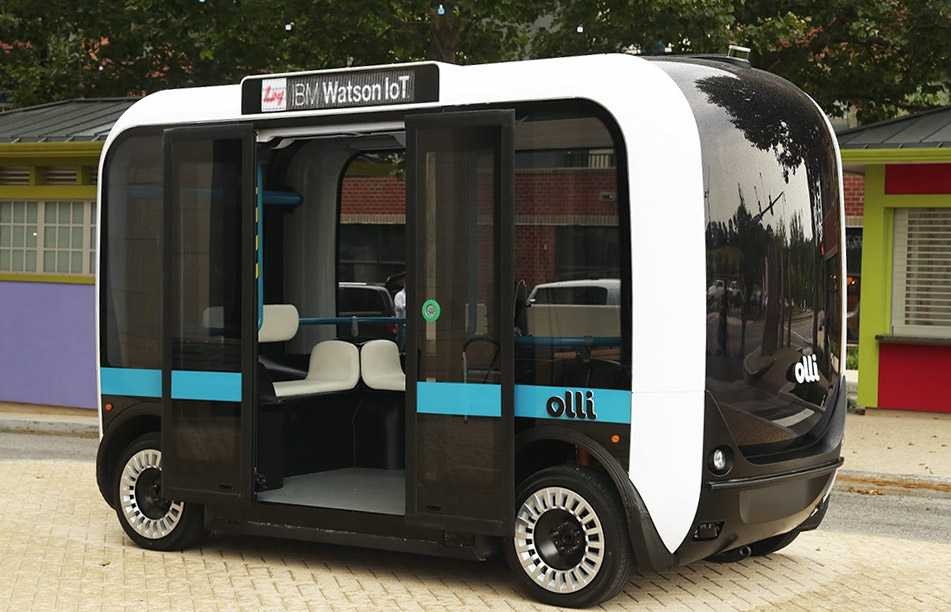 Source: Local Motors
When finished, it's expected that Olli will be able to travel up to 18 miles per hour, with a range of around 60 miles. While that wouldn't be much use for motorway driving, it would make Olli useful as a shuttle transport for cities, large office complexes and university campuses. It could also offer a local bus-like service in small villages and towns where other transport options are restricted.
Local Motors will continue to test Olli over the next few months, as it has access to private roadways. However when it comes to sending manufactured Ollis out into the world, it will need to hold fire for legislation that allows such vehicles to operate in public to be created (thanks Ars).
Here in the UK where trials are ongoing in several cities and townships, specialised temporary legislation has been approved to allow the vehicles to operate. Much like the rest of the world, fully realised autonomous vehicle laws need to be written before anyone can really take their hands off the wheel.
Discuss on our Facebook page, HERE.
KitGuru Says: Although the recent Tesla crash has likely slowed the adoption of automated vehicles, it doesn't feel that far off before we'll all be able to reliably take our eyes off of the road.