The Motorrad, as BMW is calling it, is a self-balancing, sometimes-autonomous motorbike, which could make two wheeled travel far safer than it is at the moment. The marketing for the new concept tells us that it's so safe, you don't even need to wear a helmet.
While the legislation of most western countries would likely debate that fact, there is no denying that BMW's self-balancing motorbike is rather impressive. Beyond all of its segway-like self correction and automated features, the Motorrad strips out all traditional dials and meters and replaces them with a heads up display in an augmented reality headset.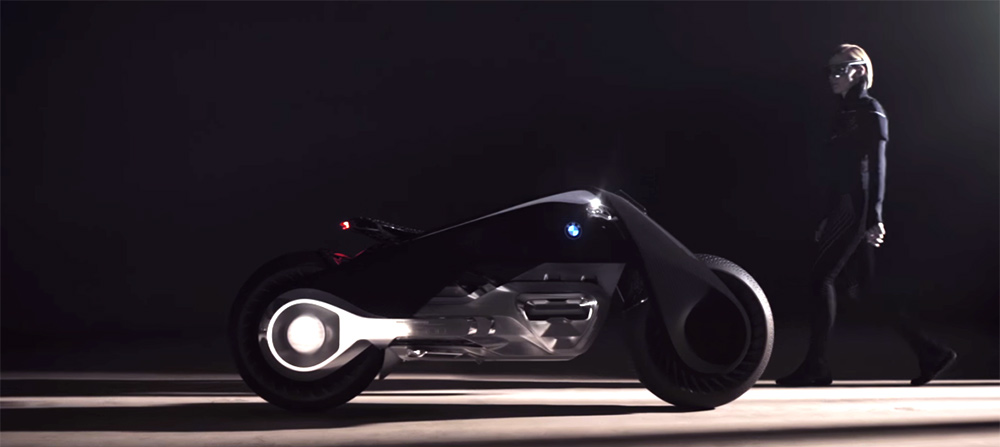 Just about everything about the bike is futuristic. The look is very refined, with flush carbon fibre panelling and thick, honeycombed tyres. It's completely electric, so has no emissions, requires no exhaust or air intakes, is near silent. Gesture controls handle indicating, while the headset protects the eyes from wind and debris, it also gives the rider directions and engine read outs.
[yframe url='http://www.youtube.com/watch?v=oW0ShDRggts']
The safety features automatically limit banking angles to prevent a rider from slipping off, while auto-correcting balance systems prevent the bike itself from capsizing the rider if road conditions worsen. In some instances, it could even turn the rider away from danger to prevent a crash.
The Motorrad is part of a new line of conceptual vehicles that BMW has developed as part of its Vision Next series, which celebrates the company's 100th anniversary.
Discuss on our Facebook page, HERE.
KitGuru Says: It's not clear if any of these will be released to the public in the future, but it's hard not to keep your fingers crossed. This looks so damn cool.