Connected devices are permeating all parts of our homes and one area that HiMirror wants to pioneer in that field, is smart makeup mirrors. Introducing a camera and analytics system to a mirror display, its HiMirror Plus expands its original design with new LED lighting and more storage, letting you have more users per mirror and save analysis results.
The idea of the HiMirror and its sequel, Plus, is to make the process of cleaning, maintaining and adding makeup to your face, that much smarter. Instead of using your own intuitive nature or watching Youtube videos for tips, HiMirror's system wants to use computational algorithms to inform users about how to clean and nourish their face, as well as apply makeup.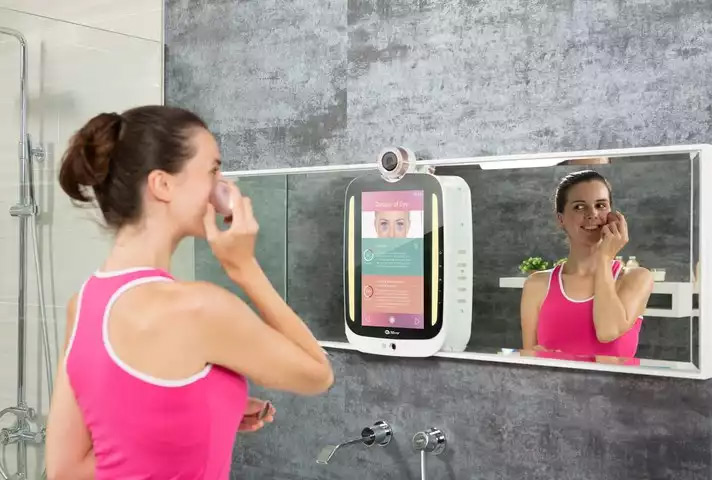 I wonder how comfortable guests will be with such an overt camera in the bathroom?
The newly announced HiMirror Plus, which will be on show at CES 2017, comes complete with a skin analysis engine, which looks for wrinkles, fine lines, dark circles, spots and offers techniques and products that can help alleviate them. It also makes historical comparisons of your face, so you can see what's new and what's not and what effect your nutrition routine has on it.
The Plus version adds in extra storage space, so that up to six users can have their own profiles on the mirror and that skin analysis results can be stored locally for a longer period of time, giving you more historical context to work with. There's also a new smart, ambient lighting system. That not only lets you use the mirror alone for lighting your face when applying makeup, but also lets you simulate different lighting scenarios – outdoors, bright office, shopping mall and more – so you can see how you might look in each one.
Discuss on our Facebook page, HERE.
KitGuru Says: These mirrors need a desire to put in far more effort into skincare than I'm likely to do, but this doesn't seem like a bad plan. I can't help but think of the creepy scene in Black Mirror though where Bryce Dallas Howard was practising her smile to improve her score.