Although you would imagine Disney has its hands full putting out Marvel movies like they're going out of style, producing new animated characters for kids to latch on to and milking as many dollars from park visitors as it possibly can, it's also got its hands full with wearable development. In-fact it's created a new device that can not only tell what you're doing through environmental and electromagnetic cues, but can even offer you instructions and help based on your actions.
In a demonstration video, Disney showed that when wearing the EM-Sense wearable device, picking up different objects can be enough to detect what they are. Sometimes turning them on is required, but for the most part they can be detected by touch alone.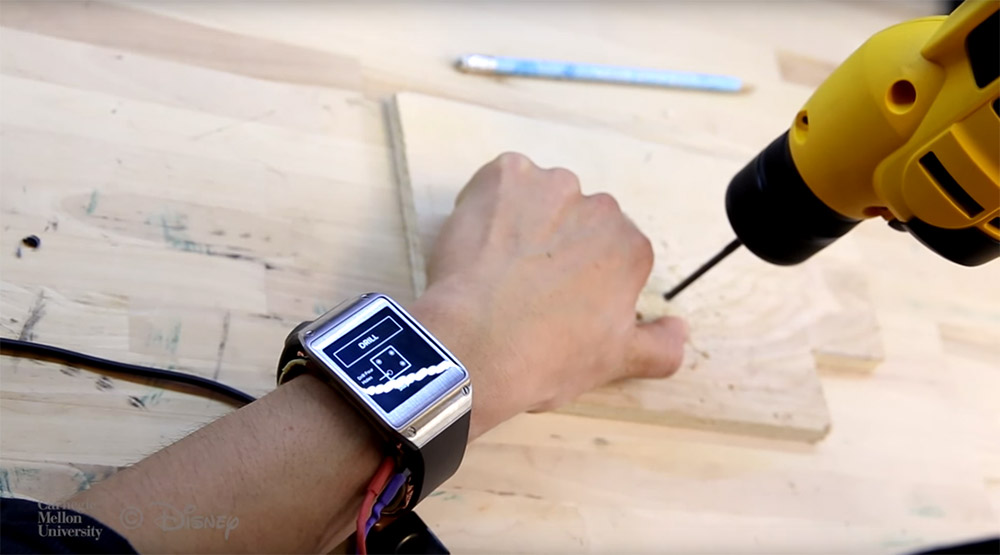 Source: Screengrab/Disney, Carnegie Mellon
That's all well and good, but the contextual help is much more useful. In the video, we see how when a user starts using their electric toothbrush, a timer automatically starts to let them know when they've brushed for long enough. When they step on their set of scales, the data is recorded and added to a chart that helps track weight loss or gain.
This automated functionality helps remove the tedious data entry or syncing portion of trackers that have become more common in recent years.
[yframe url='http://www.youtube.com/watch?v=fpKDNle6ia4′]
More advanced functions can also be inferred, through various actions. Touching the fridge, followed by the hob or kettle in the morning suggests breakfast is being made. When a user reaches the office and opens the door, the device could automatically check email and inform them of any meetings or events that morning.
When using power tools like a drill or jigsaw, the EM-Sense can track RPM or other factors of its use. In another instance, it could offer a tutorial on how to cut the wood or what is the best angle to hold the tool.
Discuss on our Facebook page, HERE.
KitGuru Says: This is all very rough at the moment and the EM-Sense is hardly a flush looking tool with its cables and chunky display, but it's an impressive showcase of what the technology can do. This, combined with Hololens would be an amazing bit of cross-over tech.