Hitchbot, the robotic hitch-hiker that was travelling across America as a scientific and artistic experiment, has found its journey cut short after a stop in Philadelphia saw it decapitated and vandalised to the point where it can no longer operate. While they won't be seeking those responsible to press criminal charges, the creators said they were lucky not to be photographed by the on board cameras during the attack.
"It didn't take any pictures unfortunately of the culprits," said Frauke Zeller, the professor at Ryerson University in Toronto who helped found the project (via the Guardian). "They were lucky because it takes images every 20 minutes so it must have been in-between that interval."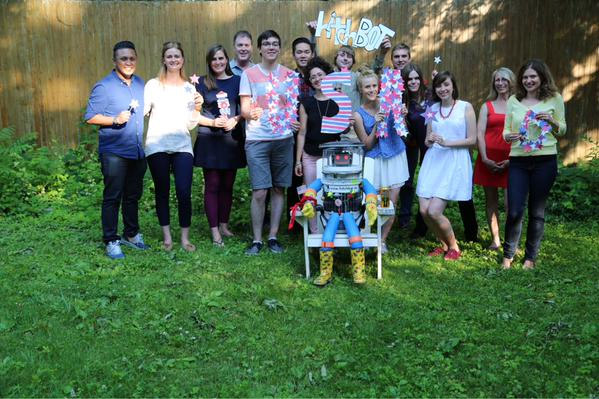 Hitchbot seen here in happier times
Hitchbot was a robotic creation that was designed to hitch hike across large swathes of country, using the goodwill of the public to help it get across the vast distances and experience different pleasures along the way. Previously it travelled from the east to west coast of Canada in just a few weeks and enjoyed a boat trip. It was said to be an experiment to help promote trust, as well as look at the ways in which people reacted to the strange contraption.
However things took a turn for the worse then the same experiment was trialled in the US. Beginning its trek in Massachusetts on 17th July, it attempted to cross the United States, but after more than two weeks Hitchbot had barely left the east coast. While it eventually reached the still-easterly city of Philadelphia, Hitchbot was brutally assaulted with the vandals content to leave its body after stealing the electronics filled head for themselves.
It has yet to be recovered.
While the original creators have mourned their robotic friend and said that the little guy looks to be beyond repair, a local group of technical enthusiasts believe they can get it back on its feet again. They are currently in the process of trying to get ahold of the remaining pieces of Hitchbot, which currently reside with a good samaritan who was planning to send it back to the creators.
"I think Philly has a really bad reputation for this, but I think it's mostly undeserved," said Georgia Gurthrie, head of the Philadelphia business, The Hactory (via TheStar). "We think this is a great opportunity for us to put our skills to good use and we'll do whatever we can … I think there's enough people who want to help and do something positive that we're going to work to have some good thing come out of this."
Donations for the project can be sent to a Paypal account which will help bring Hitchbot back to life.
Discuss on our Facebook page, HERE.
KitGuru Says: With Hitchbot's smiling LED face, how could anyone pull the little fella' apart? He could talk to you and everything.