Intel isn't just looking to position itself as the best solution for desktop PC users going forward (with what it describes as a reinvention of the platform) but also as the main provider for wearable devices. At this year's Re/Code it's been showing off a 'smart' shirt, featuring a built in sensor suit, that hooks up to an Intel made computational box featuring an Edison chip.
Edison is a technology that Intel has shown off previously and it features a low-power, 22nm, 400MHz Intel® Quark processor with two cores, integrated Wi-Fi and Bluetooth, making it a very versatile piece of hardware that's as small as an SD card. With that in mind, it's made a small control box that can hook up to anything, but in this instance, a smart shirt. When worn it can track a user's heart rate to such a degree, that it's medically approved.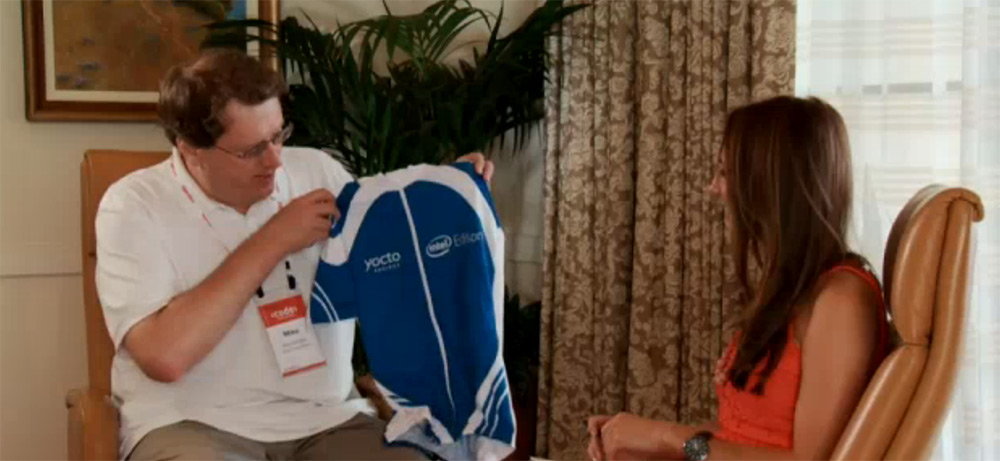 Intel's Mike Bell, seen here modelling the AIG smart shirt
For now that's all the shirt does, making it a little feature light compared to some wearables, but its the accuracy which Mike Bell, Intel's head of new devices, wanted to show off, as well as the fact that it can communicate over bluetooth or WiFi, something that most smart devices can only do one or the other of.
Bell goes on to talk about how Intel worked on the shirt with smart clothing maker AIG, to offer a proof of concept and show that Intel will be able to offer full computational hardware for future smart devices and especially wearables.
If you particularly like the shirt though, you'll be able to buy it later this year. No word on an actual release date or pricing as of yet.
KitGuru Says: This is an interesting move by Intel as traditionally it's struggled in the more mobile markets. However it clearly is learning from mistakes and trying to get in on the ground floor with wearables, so it'll be interesting if it beats competitors like Qualcomm to the punch, who have been slow to release their own wearable specific hardware.