If you've ever watched one of those shark shows where they manage to capture a great white and raise it out of the water and drill a sensor into its dorsal fin, or stab one into it with a long stick, then you'll no doubt have been frustrated with the results. While it's cool to see the sharks up close as they're tagged, the information gathered is a little underwhelming. Often the sensors only go off when the shark surfaces, meaning at best, there's a haphazard map of markings showing a very rough idea of where the shark has been. When you look at what the guys at the University of Hawaii and Tokyo are doing though, it's anything but underwhelming.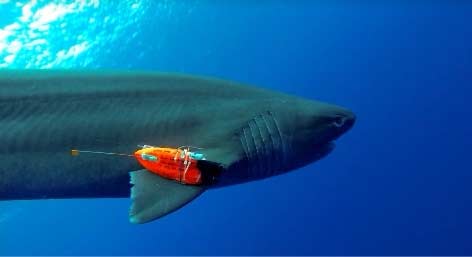 Hipster sharks add a stove hat to the ensemble
These guys are taking new sensors that operate underwater, pinging back locations, giving information via accelerators and magnetometers, which is fantastic as it offers not just a 2D map with sporadic location dots, but a 3D impression of their movements on a much more accurate level. But the best part, is that they have a functioning camera on them too, showing the habits of some of the world's most elusive predators.
[yframe url='http://www.youtube.com/watch?v=UHDOAmXRw-0′]
Admittedly the sharks do look a little silly with their bright orange arm band, but the footage gathered is worth a bit of a fashion faux pas, as we get a real shark's eye view of a hammerhead school and even a hint at the mating habits of a sandbar shark.
"These instrument packages are like flight data recorders for sharks," said Carl Meyer, Assistant researcher ad the Hawaii Institute of Marine Biology. "They allow us to quantify a variety of different things that we haven't been able to quantify before. It has really drawn back the veil on what these animals do and answered some long-standing questions."
KitGuru Says: Considering how much of the ocean we know so little about, it seems like enlisting some of its greatest predators to help us map it out while learning about them at the same time, could be a great time saving measure. 
[Thanks Wired]