As if yesterday's cafuffle with the double muscle dog/cow wasn't enough, today's edition of off-beat technology sees us looking at Nike's self-lacing shoes from Back to the Future II. While many of us may have watched the films – or at least been subjected to endless Facebook posts about them – yesterday on the official 2015 BTTF date, Nike has actually made these shoes a reality, with plans to make them available in 2016 and it even had Michael J. Fox model one of the first pairs.
"We started creating something for fiction and we turned it into fact, inventing a new technology that will benefit all athletes," Nike's president Mark Parker said of the announcement on the official site. Indeed, the Nike Mag shoes have all of the features of the original film's, including the light up sections and "power laces," that tighten automatically, or are controlled at the press of a button.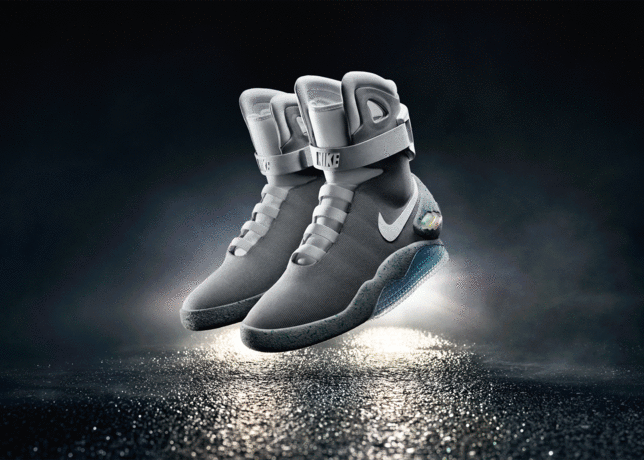 Although these shoes will go on sale next year, it will be through auction only, so will be available in limited numbers. All proceeds from the auction will be going to the Michael J. Fox Foundation for Parkinsons Research.
However, Nike did say that this is just the first generation of the shoes and its lacing technology. As Ars points out, Nike actually patented an automated lacing system in 2009, so it's had the technology to play with for a while now. It also said in the announcement that it was continuing to test it and believes that the ability to automatically adjust the tightness of footwear based on the movement of the wearer could have performance enhancing abilities.
[yframe url='http://www.youtube.com/watch?v=zcvbHJ1BZ9s']
Although it seems likely that Nike intended to make these shoes available on the official Back to the Future day yesterday, it did at least get one pair out to Marty McFly himself to make him the first to try the official design of the new, old shoes.
Discuss on our Facebook page, HERE.
KitGuru Says: Although I don't think I could get away with wearing these, even in an ironic retro sense, I know plenty of people who would be more than happy to.