Smart homes with connected features and digital controls are something we've all been promised for decades, but it always seemed like something that needed to be built into the house during construction. Of course in a world of wireless internet and applications, that's no longer the case and Samsung wants to prove it can be affordable, with its new £200 home starter kit, that lets anyone automate several aspects of their home.
The Smart Home system is built upon technology acquired during Samsung's buyout of SmartThings in 2014, and consists of a central hub hooked up to a number of sensors around the house. It has backup power so it can continue even during a blackout and is able to operate offline too.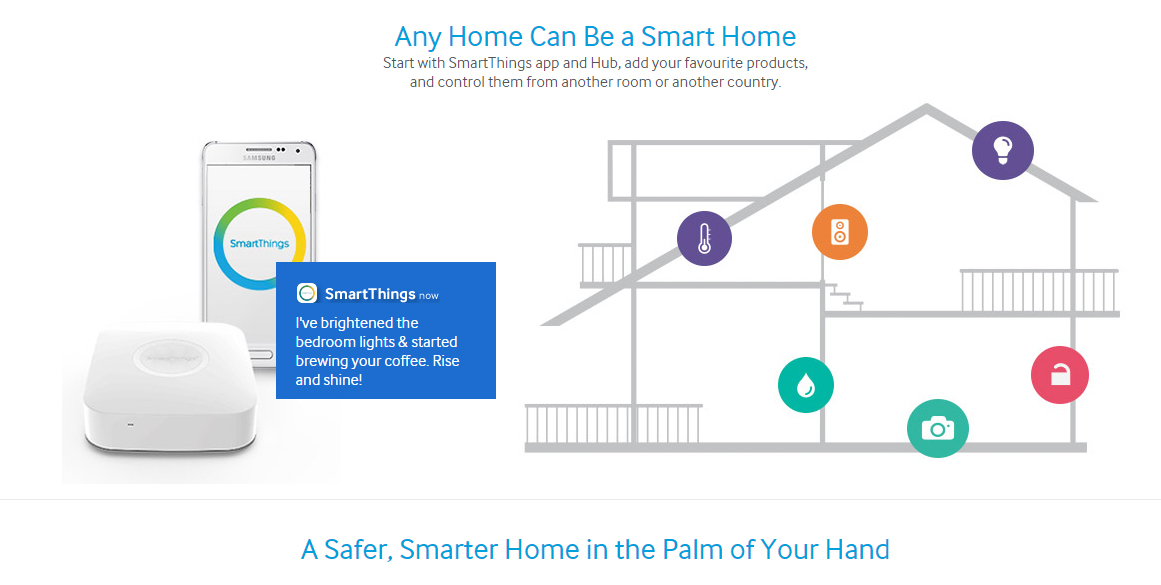 However it's only when connected to motion, moisture or proximity sensors that the hub really has much of a function. For instance, it can send notifications or initiate certain appliances when someone returns home, or let you know if your animal or child leaves a certain 'safe-zone.'
Long-on appliances like space heaters or slow cookers can also be controlled remotely via the hub's application, while the moisture sensor can be used to turn off all power to help prevent flood damage.
As much as all of this technology is nice, this is something we've seen before. Our recent review of the Piper NV Network Hub provided all of these functions along with a night vision camera and footage storage. However it was £200 without any sensors. In comparison, Samsung's hub costs £200 with a motion sensor, multi-sensor (open/close), presence sensor and a power outlet.
The different sensors and hub can be purchased separately for less as well, making the barrier for entry much lower – even if it does lack the security camera and associated features.
Discuss on our Facebook page, HERE.
KitGuru Says: Smart home functions take a bit of setting up, but there are some really interesting ways they can be used that can be surprisingly helpful.