Although we've seen concept imagery and teasers for Tesla's Model X 4×4 electric car, it was only officially unveiled and launched in the early hours of this morning at an event in the U.S. Tesla debuted the vehicle itself along with a laundry list of features, announcing that the first six reserved cars would be delivered today. Tesla founder and CEO Elon Musk, also announced that although the car is expensive, lower cost versions will be released in the future.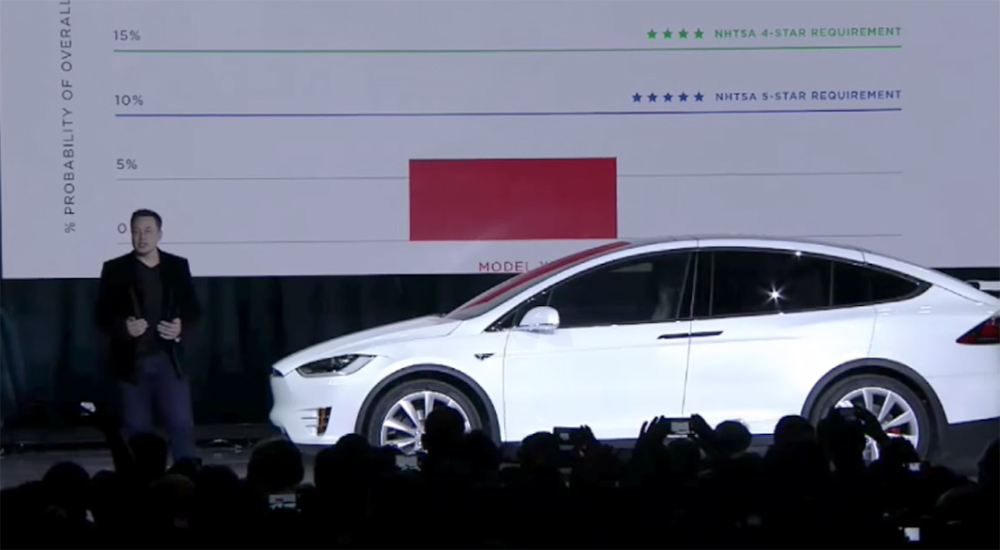 Beyond the fact that it's electric and therefore has all of the low-noise, cheap running, high-acceleration benefits of that system, the new Model X is said to be the safest SUV ever made. Musk said that the Model X has a five star rating in just about every safety category. Due to the low centre of gravity – with all of the batteries in the floor of the car – rolling it is almost impossible. We were told that even if you drove it off of a cliff, it would probably roll a little and then land on its wheels.
It even has an air-tight, high powered filtering system, so that you won't be hit by any particles or gases that you don't want. Musk really wasn't kidding when he showed off the vehicle's "bioweapon defence mode."
"If there's ever a bioweapon attack," Musk said (via TruckYea). "the safest place is your car. We figure you shouldn't have to think if you're in an emergency."
[yframe url='http://www.youtube.com/watch?v=RUz_EXSmp9w']
It's also very intuitive. Ultrasonic scanners will detect when you're walking up to the car and at what angle, and will open the respective door for you. Once you've sat down and applied the brake, the door will close without you ever touching it. The sensors are actually hidden under the bodywork too, which means you get all that functionality with a clean look.
Performance wise, the Model X is no slouch either, as with 259 horsepower in the front wheels alone, the additional 502HP in the rear seems almost overkill. With more than 700lbs of torque, this 4×4 can do 0-60 in just 3.2 seconds, with an 11.7 second quarter mile. That's if you engage ludicrous mode of course, but all Model Xs can hit 155 miles per hour if needed.
Overall range is said to be 257 miles, and it can operate off road really well too.
Discuss on our Facebook page, HERE.
KitGuru Says: As awesome as this car seems, I want to see how much of this tech Tesla can cram into the much more affordable Model 3 it's set to unveil next year.