Graphene is a wonder material in oh so many ways and that seems likely to remain true for quite some time. In one of its more recent, exciting uses, the allotrope of carbon is now being used to create a wearable device that could help combat type II diabetes. The long awaited device that can test blood sugar levels without breaking the skin is now being tested and it works by analysing your sweat.
Type II diabetes might be an affliction that in some cases can be cured through diet and fasting, but it still affects millions of people around the world, who are forced to regularly monitor their blood sugar levels by taking a sample. It's not only unpleasant, but a hassle, meaning some can miss checks and end up not keeping on top of their bodily functions because of it.
That's why a graphene wrist strap that detects glucose levels by measuring sweat could be such a revolutionary device. It's thin, almost invisible and is capable of approximating blood-glucose levels; albeit with a small lag between blood sugar changes and similar alterations in sweat composition.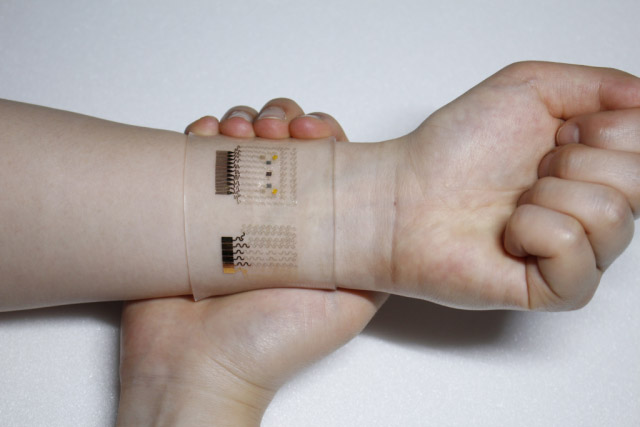 Source: Hui Won Yun, Seoul National University
Regardless though, using its suite of sensors built onto gold doped graphene, connected  with a micro-network of gold meshing, the wearable is able to detect glucose in the wearer's sweat (as per Ars) by oxidising it into hydrogen peroxide, which is then altered again and the electrochemical changes recorded and analysed.
But all of that is just a pre-cursor to the main benefit of this device – it even applies treatments automatically. The wearable is also fitted with micro-needles which can deliver type II medication, metformin into the bloodstream automatically if an increased glucose level is detected, taking the entire process out of the hands of the user.
While this may concern those that prefer to be in control of their own levels, for those that would rather not have to worry about it, these graphene bracelets offer an exciting development for the future.
Discus on our Facebook page, HERE.
KitGuru Says: More studies and testing is required before it becomes available to the public, but it's great to see that in the future Type II diabetes may be far less bothersome than it is now.