Uber has hired on on an ex-NASA engineer who previously developed concepts for personalised air vehicles, which could allow for an airborne taxi system. He will now begin work on Uber's flying car project, called Uber Elevate, which the company outlined in a white paper in October 2016.
The idea of flying cars has been around for the better part of a century, but beyond a few pipe dream projects, nothing has really materialised. One of the age-old problems too, is the lack of pilots for them, but companies like Airbus and Uber are now working on developing flying cars – or rather larger, heavy lifting drones – which could operate autonomously and transport people across cities in a matter of minutes without human input.
Uber's current business model sees it lose hundreds of millions per quarter, so if it can reach a point where it doesn't have to pay drivers anymore, that's a perfect scenario for the company. Better yet, if it can transport people at the speed of flight, it could become one of the most popular transportation systems in the world. That's where its Elevate project comes in and ex-NASA engineer Mark Moore will be a major part of its development.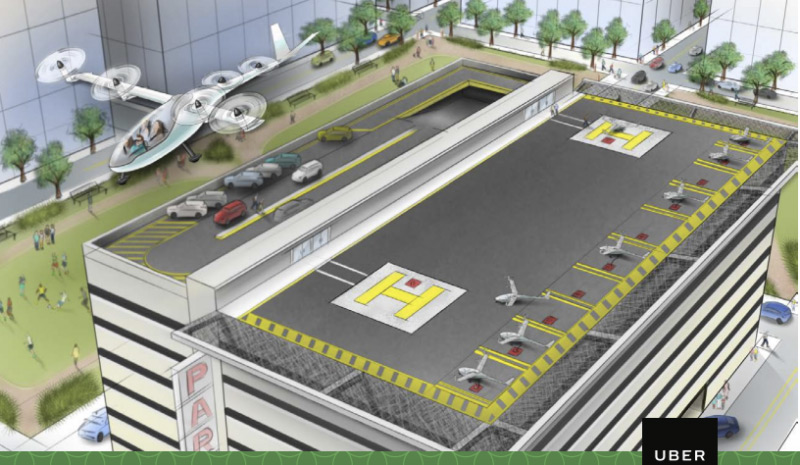 Source: Uber
He's been thinking about flying cars for a while now and as Bloomberg says, even wrote a white paper of his own in 2003 on the subject. Much of the technology needed for his ideas at the time was in its infancy, but today, with drone technology advanced as it is, many of the original headaches have been assuaged.
Although it's no surprise that Uber would want some of the world's best engineers to join its team for a mammoth project like this, what is, is why Moore would take the position. Although he clearly is interested in the idea of this sort of flight system, he was only a year away from earning his full pension from NASA, including full healthcare coverage for life.
Whatever Uber offered him to jump ship, must have been worth it.
Discuss on our Facebook page, HERE.
KitGuru Says: I can see a future where autonomous drones fly us from building to building or across cities. They'd be quiet, non-polluting and fast. What's not to love?