The red phone box is a little like the red double decker bus in the UK: a major part of 20th century culture. Of course today though, the phone box is rather useless for most, so one company is looking to change that, by turning them into micro-offices, for use by those who would rather work somewhere other than a coffee shop while out and about.
The company behind this venture is Bar Works Inc, and it's going to convert 15 of the phone boxes around the country, based in cities like London, Leeds and Edinburgh. The first is scheduled to open in July and will feature a 25 inch screen, a wireless mouse, plugs for power and charging, a printer/scanner combo and even a hot drinks machine.
Of course all of this will be no good if people use them for their most common usage in recent years: a toilet. To prevent that, you'll need to be a member of the Pod Works Club to gain access, which will be possible only through a specific app. Users will need to pay £20 a  month for the privilege, but can then use the micro-offices any time of the day or night, all over the country.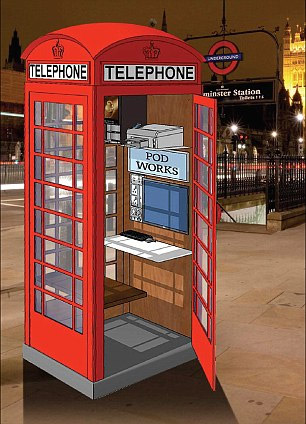 Concept of what a Pod Works phone box could look like
Ars reports that there will also be CCTV at each location, though none of the hardware inside each will be particularly valuable. Most of it will be fixed to the kiosk too, so removing any of it would be more effort than it's worth.
Bar Works will be renting the phone boxes directly from Red Kiosk company, which has been buying up the boxes from BT over the past few years. It has previously rented or sold them on to various businesses which now operate out of them, offering ice cream, hot drinks or other small scale businesses, which can benefit from such a small physical footprint and a high-street location.
It remains to be seen how much people will want to do office work inside them though.
Discuss on our Facebook page, HERE.
KitGuru Says: Would you be interested in access to a micro-office like this? Surely it would be more comfortable and spacious to just take your laptop to a cafe?