Vodafone has been on the forefront of developing kit that's designed to offer instant mobile network access for hard to reach areas during disasters, but its previous efforts have been giant, bulky affairs that come in multiple boxes, take a while to set up and weigh too much for the average person to carry. However, at the recent Mobile World Congress, it's shown off a new version that weighs just 11KG.
It's a bit weaker than previous efforts, only being able to deliver a signal over a 100 metre radius, but it's small and light enough to mean one person can carry it as a backpack. This should make it perfect for either supplementing networks created by the larger Vodafone Instant Network hardware, or for getting signal to very difficult to reach areas.
This new backpack, termed the Instant Network Mini (INM), offers 2G GSM service, making it possible to have five phone calls at once using its network hub. Texts will also be possible, but data transfers won't be – no using WhatsApp to send disaster selfies I'm afraid – as they would be too intensive for the small scale network. However in the future, Vodafone hopes to upgrade the mini-network with 3G and eventually 4G connectivity for increased bandwidth.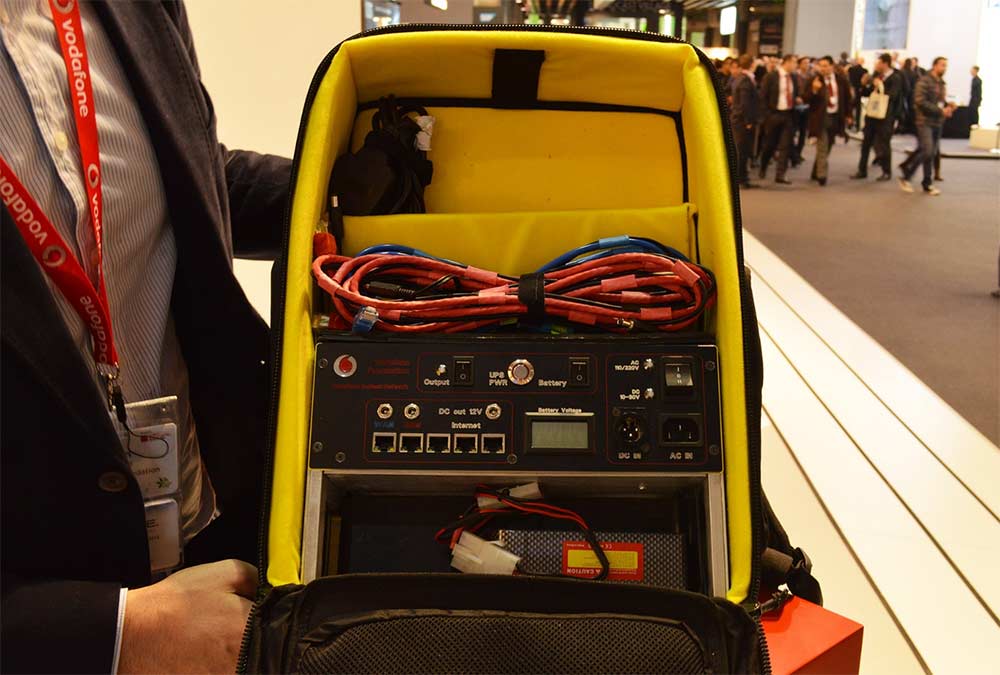 Source: Katie Collins/Wired
However the INM isn't just there to provide signal, it's there to provide power too. It comes equipped with a bunch of phone chargers and a large, fold out solar panel, giving it enough juice from the sun to power up a small number of handsets at a time, whilst also powering its own connectivity.
As Wired explains, Vodafone currently has deals with some 80 countries, so its kit can be deployed at a moment's notice and connect to local networks without difficulty. However it's also hoping to expand this usage beyond just disaster scenarios. Very remote parts of Africa could really benefit from the connectivity offered by the INM. In March, Vodafone will be driving several of the units to villages in Kenya, where people will have a few hours to pay for services using an SMS system.
KitGuru Says: This seems like a great idea. We're so used to being instantly connected everywhere that it's easy to take for granted that many parts of the world aren't. The horrific Phillipines storms at the end of last year where contact was lost with entire islands is a perfect example of how getting lines of communication opened is incredibly important. Vodafone hardware was used there, perhaps with a smaller version, deployment could be even faster.