Apple products are often seen by many as a premium, whether you're trying to buy an iPhone in China, or an Apple Watch in the western world. That said, none of them perhaps are quite as luxurious as the optional extra being offered by Goldegenie, the self-described gold-plating specialist from London. If you have the money to pay for it, it'll cover a brand new iPad Pro with mirror-finish 24k gold, rose gold or platinum and it'll even engrave something in the back if you want it too.
Of course since the iPad Pro isn't quite out yet, it's only up as a pre-order option right now, but you can put down your 50 per cent deposit of £927 + VAT. That price gets you the 128GB version plated in 24k yellow gold. If you want the platinum or rose gold variant, you'll have to pay a little more: £985 and £955 respectively – though you will be charged VAT on top of that and a further duplicate charge when the iPad Pro becomes available.
All iPads are said to be delivered sim free and are unlocked so can be used anywhere in the world.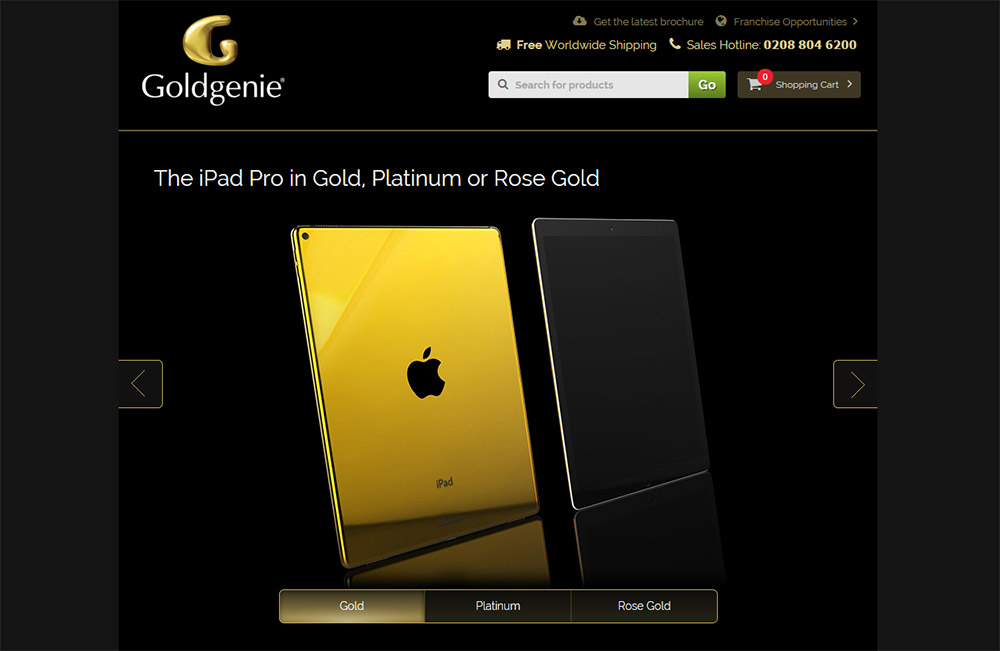 Based on the expected price tag of the new iPad Pro, adding a gold casing to it just about doubles the price, which is quite a significant investment considering the tablet is already not the cheapest piece of new technology.
If you really want a gold touch-screen Apple device though and can't quite afford the brand new iPad Pro, Goldgenie does also offer plating services for existing hardware. You can have an iPad of any type plated in yellow gold for £830 + VAT, but if that's too rich you can also have your iPhone done for £530 + VAT. £614 if you want it in platinum.
Discuss on our Facebook page, HERE.
KitGuru Says: The most bizarre one is that you can gold plate your Apple Watch. I thought they already came gilded to the nines?