While we spend a lot of time here at KitGuru talking about gaming peripherals like headphones, testing 5.1 and 7.1 channel solutions, seeing whether they have leatherette earcups and built in volume controls, it's easy to forget that audiophile solutions go so much further. Take for example Sennheiser's new Orpheus headphones, the successor to one of the most beloved pair of headphones ever created. Not only does it improve on the originals, but it comes with a price tag to match: 50,000 euros.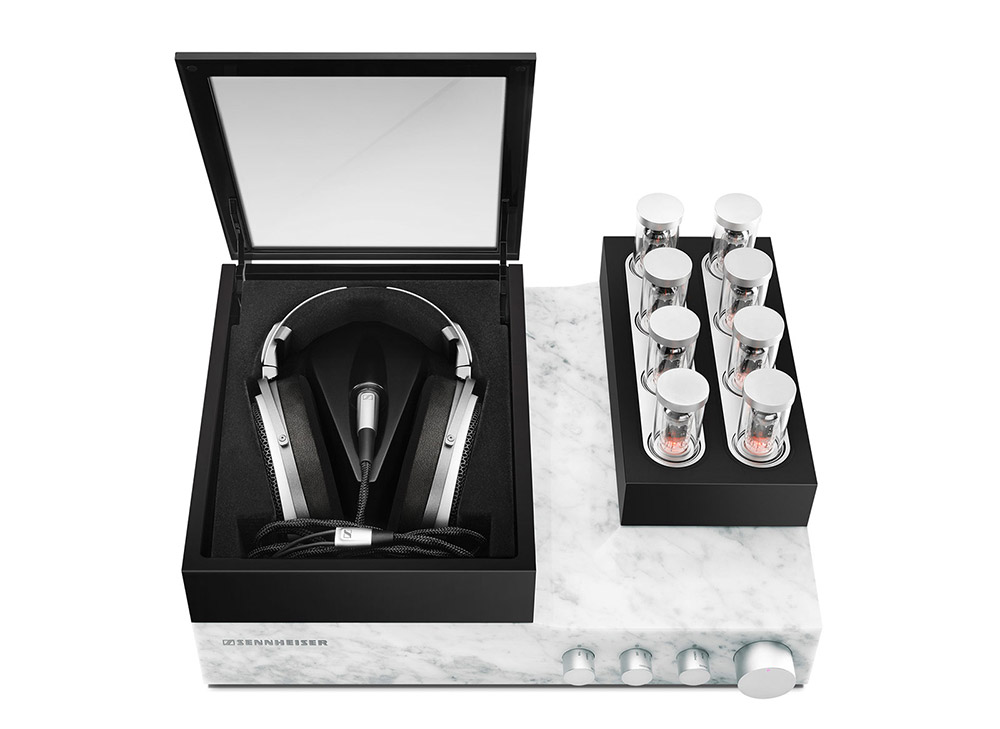 The original Orpheus headphones launched all the way back in 1991, combining classic wood styling with visible valve amps, in a product that was as much an eye catching display piece as it was a tool for music listening. Despite their age, these headphones still go for a small fortune when listed on popular auction sites, so it shows that there is a lot of love for the brand and the attention to detail.
To top it, Sennheiser is said to have spent 10 years working on its sequel. The new Orpheus not only have a massively expanded price tag, but comes with all new premium features. For starters, it has motorised amps now, which when the device is switched on rise out of a marble base. A glass lid also swivels open to reveal the headphones.
The valves themselves are made from quartz glass which are said to reduce unwanted noise from what WhatHiFi calls, "airborne vibrations," and they aren't coupled to the main structure so no vibrations can travel through the amp itself to the valves.
[yframe url='http://www.youtube.com/watch?v=iFhx1R4yFho']
The headphones use high-quality German leather and a micro-fibre fabric in their construction, with a transistor power amp built right into the earphones to reduce any loss or distortion by lengthy cables. This, combined with the 2.4-micrometre thick, platinum coated diaphragms – which Sennheiser assures us is the perfect size – gives the Orpheus headphones an unbelievably wide frequency range of 8Hz, right the way up to 100kHz. Audio quality all the way up to 32bit/384kHz is also supported.
Although the frequency range of the new Orpheus headphones may seem a little redundant since the average human ear can only hear between 20Hz and 20kHz, audiophiles may feel differently and indeed, those that appreciate sound enough to buy a set like this may do so because their ears are especially sensitive. Or they just have very deep pockets. Either or.
Discuss on our Facebook page, HERE.
KitGuru Says: Although there aren't many people that could justify such a purchase, considering the collector value of the original pair, buying a set of these would probably be a reasonable investment for some.