If you couldn't get your hands on the Fallout 4 Pip-Boy Edition, then all hope is not lost as a fan of the series has gone ahead and created a schematic to 3D print a pip-boy from scratch. The specific model is the Pip-Boy 3000 Mark IV. Just as Bethesda's own model, this one is designed for use with smartphones, so that you can run the Fallout 4 companion app when the game launches.
The mobile app will allow you to control the pip-boy and interact with the game. In all, the replica actually looks pretty damn good, you can see it for yourself in the video below:
[yframe url='http://www.youtube.com/watch?v=bD9w7f4hJDY']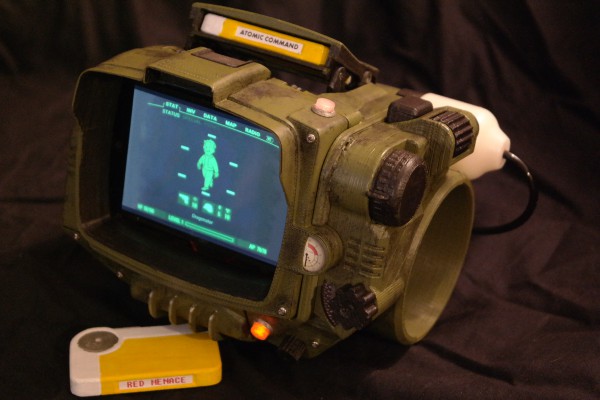 As you can imagine, the pip-boy was pretty difficult to design without proper reference. The creator, Yvo de Haas, only had the E3 preview and trailer to go off while making this creation. Another challenge was all of the extra features that the new Pip-Boy edition has: " I like to make as much features working as possible, and to get some of the features (most notably the tape player) working, was a real challenge."
If any of you happen to have a 3D-printer and want to give this a go then you are going to need some extra bits, especially if you are making the version intended to house a smartphone, you will need plenty of screws for that.
You can find the schematic and full run down of everything needed, HERE.
Discuss on our Facebook page, HERE. 
KitGuru Says: It is clear that a lot of effort has been put in to this Pip0Boy replica, I actually think it looks a bit nicer than Bethesda's official one myself, though not everyone will be able to achieve the same result.