It looks like Intel is ready to step into the virtual reality arena as the company has begun showing off Project Alloy, a new, completely wireless VR headset that contains all of the processing and graphical power necessary to have a VR experience, without the need to be hooked up to another system or run cables.
It contains a battery for power along with 3D cameras and sensors that use Intel's RealSense motion tracking, making it capable of 'mixed reality', blending the real and virtual worlds.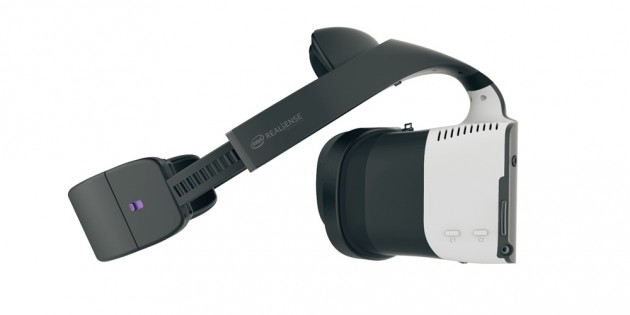 The headset was shown off in a demo at the Intel Developer Forum this week. The idea behind the headset's 'mixed reality' capabilities is to allow everything from limbs and handheld objects to appear in the virtual world. As The Verge points out, Intel also plans on making Project Alloy an open-source effort next year, allowing third-parties to build headsets that make use of the core technology.
Project Alloy isn't aiming to take down the Oculus Rift or HTC Vive. It won't be quite as accurate and it isn't really designed to run games. It could end up being a useful computing platform though, particularly when paired with Microsoft's newly announced Windows Holographic Platform, which will allow developers to create Augmented Reality apps to run on all Windows 10 PCs.
Discuss on our Facebook page, HERE. 
KitGuru Says: We already knew that Intel was experimenting with virtual reality in some form but it is nice to see an actual product on display. It will be interesting to see what other companies manage to do with Project Alloy when it opens up to third-parties next year too.