Late last night, Time Magazine went ahead and showed off its brand new cover story for this month, covering Virtual Reality and the Oculus Rift success story. Unfortunately the picture on the cover was pretty awful, showing a photoshopped Palmer Luckey on a beach with his Oculus Rift headset on.
Some have claimed that this cover will set back virtual reality in the mainstream by quite a bit, after all, it is a pretty bad picture. However, Palmer Luckey doesn't feel that way, in-fact he quite likes how the image turned out.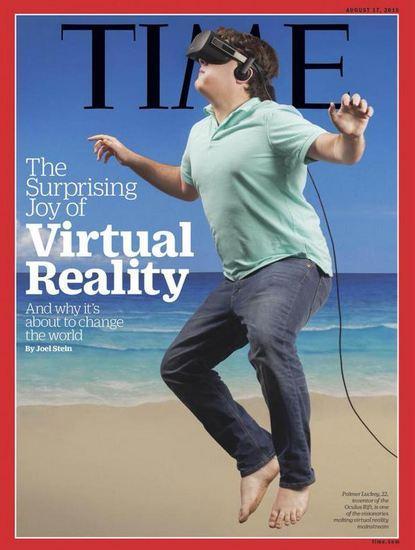 At Gamescom today, GameSpot caught up with Palmer to ask him if he thought the image would 'set VR back', to which he replied: "You know, not really. I don't get caught up in it too much. I think it's fun. I love the cover". Luckey then goes on to burn traditional print media a little bit by saying: "People have said, 'Oh, this is going to set virtual reality back so far.' I'm like, are you guys really giving that much importance to an old-media cover?"
To be fair, he has a point. While Magazines are still a viable business, is one cover really going to set back VR? According to Luckey it is "insignificant in the scheme of this massive explosion in virtual reality's popularity". So there you have it, the man behind the Oculus Rift doesn't think his silly Time Magazine cover is going to do any damage to VR's future in the mainstream.
Now that that is all out-of-the-way, let's get back to laughing at photoshopped images…
Discuss on our Facebook page, HERE.
KitGuru Says: Some people were really freaking out about the Time Magazine cover but I think going as far as to say that it is going to set VR back by years is an exaggeration.