Chances are if you've been on a torrent site before, you will have come across a Skidrow torrent or two but what happens when a rival pirating group steals from the other? Skidrow has recently learned what its like to be on the other side of the fence as a rival group beat it to a game launch by stealing its code.
Entertainment industries complain about piracy all of the time but its not often we see a pirating group complaining too. The story begins with the release of Redlynx / Ubisoft's latest release, Trials Fusion, once the game was out, it was a race between the crackers to remove the game's DRM protection and release the game for free. According to Torrent Freak, shortly after a group called 'MoNGoLS' released the Xbox 360 version of the game and just over a week later, CODEX had released the Windows version.
CODEX, the new Skidrow rival, has only been around since February earlier this year but somehow managed to beat the other top pirating groups to release but it wasn't by playing fair or being smarter than the rest, apparently the group cheated its way to the top. Three days after the release of CODEX's version of Trials Fusion, Skidrow released its own and revealed that the new group on the scene had in fact pirated its work:
"While looking inside their emulation code, we discovered something that was about to shock us completely, It was OUR work, OUR emulator." an announcement from Skidrow said. "CODEX must be stupid to think that we don't mark our code, but we had it clean on our screens, that CODEX are thieves of our Ubisoft emu. 99 percent of all their API calls in the code are identical with ours."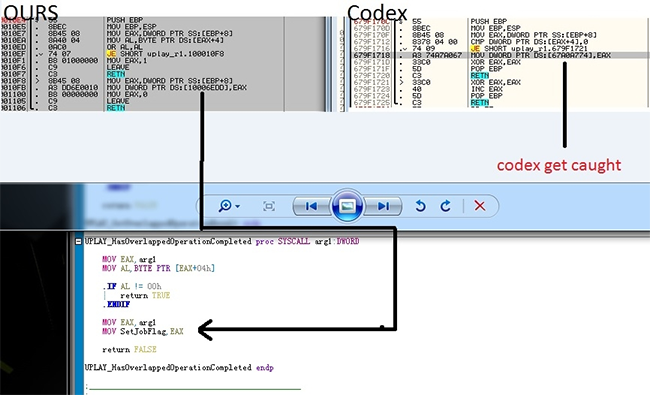 The above image acts as proof that CODEX stole Skidrow's code, apparently Skidrow plants several stealth API calls in its code that identify and tag the groups work. So the image above shows that CODEX directly copy and pasted the pirating group's work.
It's ironic that pirating groups are now stealing from each other but Skidrow had allowed this to happen. The group had previously protected its releases with its own form of DRM but had removed it to avoid ruining the release:
"In the past we used to protect our creations, but lately we have found out that even the most functional encryption tools have certain limits when it comes to preventing them from stealing CPU resources. Furthermore we have noticed that some people that use our releases, sometimes have issues with our work being notified as dangerous, when they run them on machines with certain antivirus, spam, spyware programs etc. Therefore we have decided to let our work, which is OUR work, be as clean and direct as you can get it."
Discuss on our Facebook page, HERE.
KitGuru Says: So it turns out that pirating groups do get mad at each other for stealing bits of code. There's not really anything Skidrow can do about it though aside from spread the word but will game pirates really care? 
Source: TorrentFreak