TV and movie companies are constantly throwing around bogus DMCA notices and copyright claims around, though they are usually placed with the intention of combating piracy, rather than shutting down the competition. This week, the official YouTube live-stream of Sky News was pulled thanks to a copyright claim from Fox News, a competing outlet.
We've known for some time that YouTube's new Content ID system is far from perfect and often causes more harm than good. It is easy to take advantage of to harm YouTube channels you don't particularly like but for the most part, DMCA claims through Content ID are all automated, meaning the takedown notice may not have been Fox News' fault.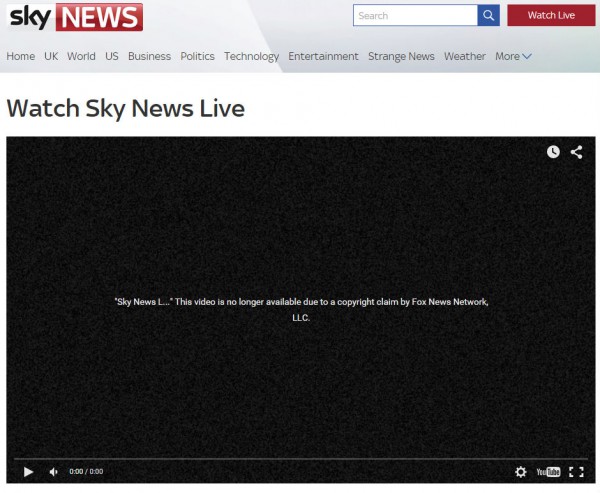 Previously, visitors of the Sky News Live page were greeted with the following message on the video: "This video is no longer available due to a copyright claim by Fox News Network, LLC". Unfortunately, aside from that statement, no other information is made available about the takedown.
The Sky News feed is now back online but unless Fox, Sky or someone over at YouTube reveals the cause of the takedown, we won't know for sure whose fault it was. These takedowns don't tend to be a problem for large corporations, as they can usually get things reversed very quickly. Unfortunately, a Content ID system capable of making mistakes like this can cause serious damage to independent YouTube channels.
Discuss on our Facebook page, HERE.
KitGuru Says: While we don't know for sure, it is likely that this DMCA notice was the fault of YouTube's flawed Content ID system. Maybe such a high-profile mistake will cause Google to re-work its tool a bit because right now it seems to cause more harm than good, particularly to independently run YouTube channels.