Game of Thrones is finally back on TV after an extended break between seasons. This is going to be the final season for the series, so there is a lot of excitement floating around. Unfortunately, as with any popular show or film, this also turns the internet into a minefield of spoilers. These can be avoided though with some simple Chrome extensions.
Here in the UK, Game of Thrones can be watched live at the same time as the US, but staying up well into the early hours of the morning is a challenge when you have work, school and other commitments. If you still need to use the internet or social media throughout the day, there are tools that can help you avoid spoilers.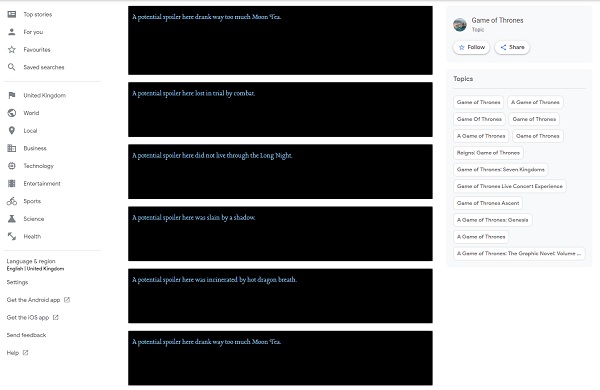 If you use Google Chrome, then extensions like 'Game of Spoils' will automatically hide posts about Game of Thrones that could contain spoilers. This works across Google News, Twitter, Facebook and Reddit. If you do want to risk seeing the hidden content, you can click on a hidden post to reveal the content underneath.
On the broader spectrum of spoilers, extensions like Unspoiler can help you black out posts about a wider variety of shows and movies, all with customisable user controls. So in the coming months, if you want to avoid any details about Avengers: Endgame, or Star Wars Episode IX, you will be able to do so.
On mobile, Android users should be able to get extensions working. If you are on iOS, you will need to be a bit more careful as Apple has a strict policy on software. If you are an avid Twitter user, you can use the 'mute' function to automatically remove any phrases or keywords you don't want to see online, although there is not similar functionality for Facebook at this point in time.
KitGuru Says: I haven't seen the latest episode of Game of Thrones yet. Unfortunately, for many of us, being on the internet is a regular, daily part of our lives, so avoiding spoilers can be a pain. Are any of you particularly worried about coming across spoilers today? Are you using a different method to avoid them?