You can now place a bet on the name of Microsoft's next browser, thanks to Australian gambling site, Sportsbet. The browser is currently named 'Project Spartan' but Microsoft has said that it will be changing the name for its final release.
The bets range from safe picks like Spartan, or Bing Browser all the way up to ridiculous options like Browser Boss, Dora the Internet Explorer and even Google II. In a statement given to Mashable, a Sportsbet spokesperson said: "Internet Explorer really went places no browser had gone before but unfortunately it just kept going until it got well and truly lost so a reboot is much-needed, all hail Spartan!"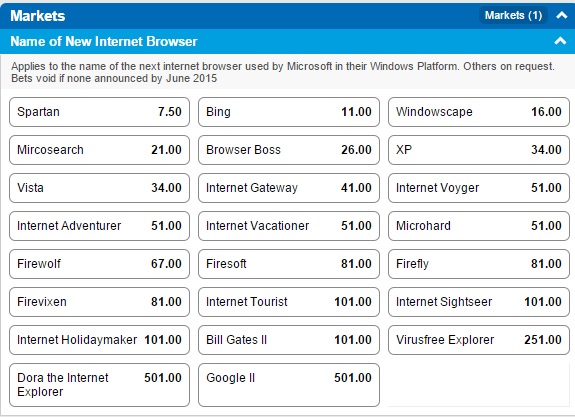 Most people appear to be expecting the browser to be named Spartan, which is currently offered for AU$7.50. The most expensive bet is obviously Dora the Internet Explorer, valued at $501.
This comes shortly after Microsoft publicly stated that it was researching new brand names for Project Spartan, ditching the old Internet Explorer name entirely, although Microsoft's legacy browser will still be included with Enterprise copies of Windows 10 for compatibility purposes.
Discuss on our Facebook page, HERE.
KitGuru Says: What do you guys think Microsoft should call its next browser? I don't think calling it the Bing browser would do the company any favors, most people seem to be happy with Spartan for the name.