Over the past five years, 133 police officers working in New Zealand were found to have illegally looked through confidential police files, leading to criminal charges for two, and 16 to resign. While many used the police systems to look at their own profiles, others used them to check on ex-partners, relatives and friends; in some instances, to hand over information to criminals.
One of the big arguments that comes from many a politician's mouth in the wake of terrorist or other nefarious acts, is that they need more access to information. They want to know web browsing histories, or have access to all forms of communication, always promising that adequate safeguards are in place. Clearly that hasn't been the case in New Zealand, as more than one per cent of its entire force was reprimanded for misusing their access to citizen data.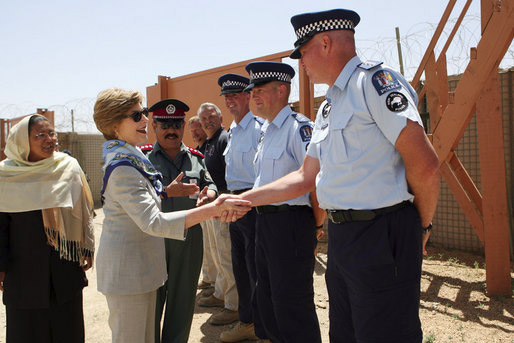 NZ police meeting then first-lady Laura Bush in 2008. They probably already knew her measurements. Source: Wikimedia
It wasn't always police officers, as some are said to be support staff or employees of the police forces, but all of them used the official computer systems to illegally spy on people. Two of those involved passed information on to criminals and were summarily arrested, one given eight years for drugs and corruption convictions (as per the NZHerald).
"Police take the security of confidential information very seriously and there are strict controls on access to information held in the National Intelligence Application system, with staff bound by a code of conduct, police instructions and the Policing Act 2008," a spokesperson said.
Although they claimed that accessing information without legitimate reason was a serious misconduct, of all those found to have sneaked a peek at somebody's file, no one was fired. 16 resigned during the investigation, but more than 75 people were given warnings only.
New Zealand is part of the Five Eyes surveillance network and regularly shares information with other English speaking nations.
Discuss on our Facebook page, HERE.
KitGuru Says: This is exactly why granting more powers of surveillance to police and intelligence agencies would be a terrible idea. It will be abused and people will use that power to their own personal advantage.