Although anti-piracy efforts tend to be mostly focused on tackling those that upload and download Hollywood's big, blockbuster movies, they do have other interests too. For example, Karaoke, which along with almost every form of entertainment has been digitised in the past decade, which means it's rife with piracy as much as anything else. Downloading your favourite singalong may have just gotten a bit harder though, as the Police Intellectual Property Crime Unit (PIPCU) has this week shut down the Karaoke-World torrent site and arrested its alleged  owner.
Visiting the site now just gives you an error, but TorrentFreak reports that before its official removal, the site was shut-down voluntarily, with a message posted that said "Just to let you know, the owner of kW was taken to the police station and had to close the site down by the Internet police [sic], so sorry we are no longer."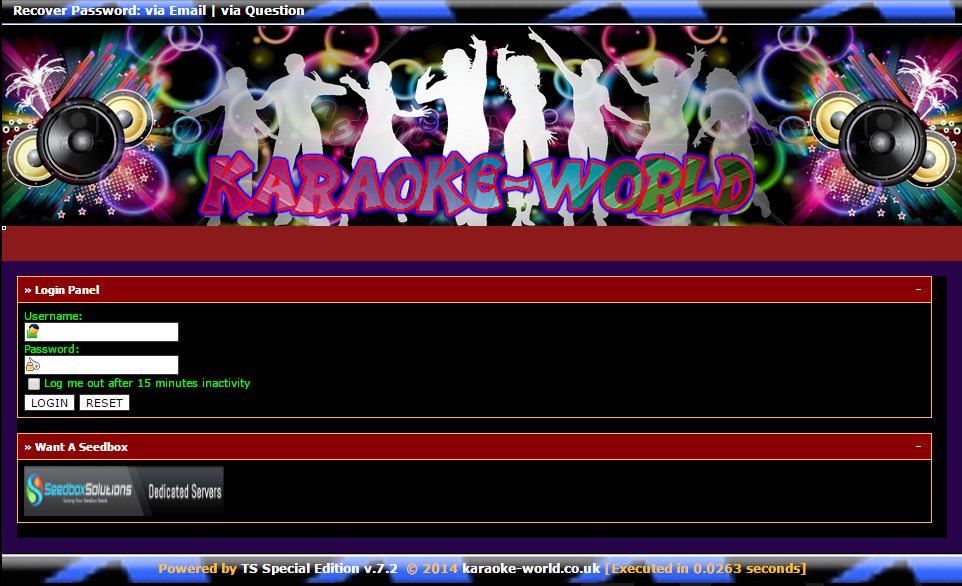 Karaoke World before the shut down
In this instance, PIPCU didn't team up with its main girl the BPI but with another organisation entirely, to orchestrate the takedown and arrest of the site's owner: PRS for Music. As well as championing the copryrights of select artists, PRS also handles karaoke licensing which allows those with one to produce singalong versions of popular tracks with words on the screen. Because Karaoke World wasn't paying for the right to use or distribute those sorts of tracks, the site was targeted for removal.
What may have irked the authorities and PRS more though, is that along with distributing content to users for free, there were paid for premium accounts that people could pony up for. Prices for such VIP status cost anywhere between £5 and £90.
Another specific quirk of the site was that users were encouraged to seed by being threatened with a permanent ban if they didn't contribute at least 24 hours of uptime for each torrent they downloaded.
Head of PIPCU, Detective Chief Inspector Danny Medlycott said in a statement: "The public needs to be aware that by accessing sites like this, they are putting money directly in the hands of criminals, which often then funds other serious organised crime, as well as putting their own financial and personal details at risk of being compromised and used for other fraudulent scams."
While the man behind the site has not been named, his pseudonym of "DJ Mikey L," was linked with the domain.
Discuss on our Facebook page, HERE.
KitGuru Says: It's quite difficult to market the idea that you are providing a service to users, rather than running a business, when you charge for memberships, even if they are premium.