The European Commission has concluded its three year investigation into Apple's use of Irish tax loopholes to avoid paying high corporation tax and has ruled that it should pay as much as 13 billion euros (£11 billion) in back taxes. Both Apple and Ireland's government are expected to appeal the ruling.
The investigation into Apple's tax avoidance in Ireland has been a long and arduous one. It began way back in 2013, with the European Commission investigating how it was that Apple was paying less than one per cent corporation tax in the EU, despite earning billions upon billions. It turns out that it had help, from Ireland.
The eventual ruling concluded that Ireland gave Apple illegal tax benefits, allowing it to avoid paying billions in taxes. However with this ruling, the Irish government must now reclaim backtaxes, something it will be unlikely to do happily, since it would mean admitting guilt. Hence why it is expected to appeal the decision alongside Apple.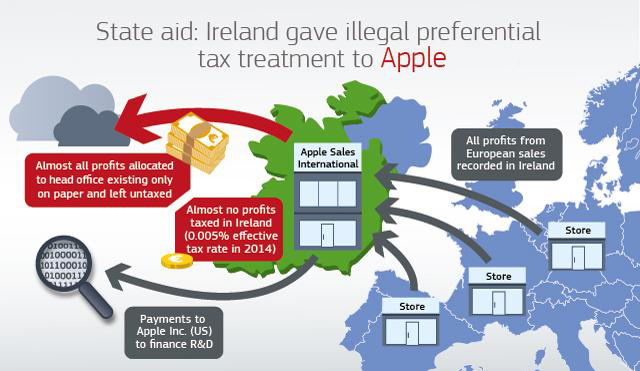 Although many companies make use of what's known as the Double Irish arrangement (often with a Dutch sandwhich) Apple received special consideration from the Irish government, which is entirely illegal under EU law. Throughout the period of 2003-2014, Apple was able to funnel all European profits through Ireland, claiming all sales as part of its "head office," there.
Using its special relationship with the Irish government, it then paid next to nothing on its 10s of billions of profits. In 2011 alone, it paid tax on £38 million in profits, but went entirely untaxed on over £13.65 billion. That works out to a corporation tax rate of around 0.05 per cent.
Considering even minimum wage workers must pay 20 per cent on anything they earn over their allowance, that's a figure that's incredibly hard for many people to swallow.
Discuss on our Facebook page, HERE.
KitGuru Says: Although it's good to see Apple being forced to pay its dues and for the Irish government to do its job properly, this just shows yet another instance of mega corporations influencing politicians. Google was previously caught out paying just over a hundred million pounds backtaxhat f on a decade of unpaid taxes, despite owing as much as ten times that.