If you're an anime and/or manga fan, then chances are you've spent some time in the past couple of years being simultaneously exhilarated and depressed, by the relentless and unforgiving slaughter-fest that is Attack on Titan (Shingeki no Kyojin). While the next series of the anime isn't set to debut until next year, there's a lot of details emerging about the upcoming live action movie and now we have the first images of the actors in-costume.
Some of the characters come from the books and show, but there's also a lot of new ones, and a few key ones missing. Somehow in the jump from page to silver-screen, Levi didn't make the cut. Your guess as to why is as good as mine.
Still without further ado, here's the announced characters and their promo images:
First up with have our two main charcters, Eren and Mikasa, played by Haruma Miura and Kiko Mizuhara. It's interesting to note that contrary to the original story, every actor is Japanese, apart from Mizuhara. She's American by birth. To explain, Attack on Titan has a very broad racial landscape, except for asians, Mikasa being a "half blooded," descendent of the last of that people.
The next two characters, Armin and Hanji deviates from the source material a little more, by making the former's hair black and the latter less gender-neutral. She's also cradling an RPG, which is a technology that doesn't exist in the AoT universe (as far as we know). Perhaps this is set in a more 'modern' period than the books?
Sahsa, or Potato girl has a bow in her shot. I hope that has an explosive tip or it's not going to do much. Jean is certainly less Caucasian than he was in the anime.
Shikishima is a new character, described as humanity's greatest soldier, making him a clear replacement for the original Captain Levi. Hiana, played by Ayame Misaki is also new, and appears to be standing in a concrete building. Or perhaps it's a basement of great import?
More new characters here… wait, is that a tank?!
Extra new characters, one with an axe. Good luck with that buddy.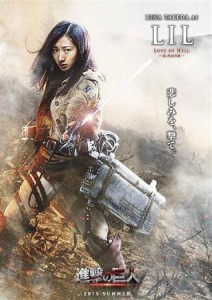 Rounding out the new cast is Lil.
It's not entirely clear why the producers have opted for so many new characters, when the source material was full of them, but perhaps it was to account for the all Japanese cast, rather than the show's multi-cultural slant. Which is a bit of a shame, as if there's one thing you can say about the world of Attack on Titan, it isn't racist, everyone pulls together. Except for maybe the fact that (almost) every titan is a white guy, but hey, there's probably a good reason for that buried inside Isayama's skull.
For those who haven't read the manga or watched the anime, I'd suggest not looking at this film's IMDB page, as it contains major first arc spoilers. And I mean major. However for those that already know some of the series' secrets, it's currently slated as being filmed and is set for release next summer.
It will be the first of two films based on the series.
KitGuru Says: I'm glad Jean made the cut as he's one of my personal favourites, but some of the changes here are a little worrying. An RPG? A potential tank? If this has vehicles, propelled explosives and concrete, the swords are starting to look a little redundant, no?
[Thanks EIGA for the images]