Bitcoin has had quite a star studded history of headlines and peaks, though over the past year has found some stability after hitting a new high of over $1,200 per coin back in December last year. Unfortunately for those that invested in large quantities however, its value has tumbled in the last few weeks. That's thank to a number of factors, but in the last couple of days, it's been down to someone selling over $9 million worth in a single day. Now the price is looking to recover, but after the dump it hit an all time low of $294 each.
There have been problems with bitcoin since the start of August. Until then it had fluctuated around the $600 mark for a couple of months and before that only temporarily reached as low as $400 back in April this year. However after August's big circa $500 valuation, it's been all downhill for bitcoin.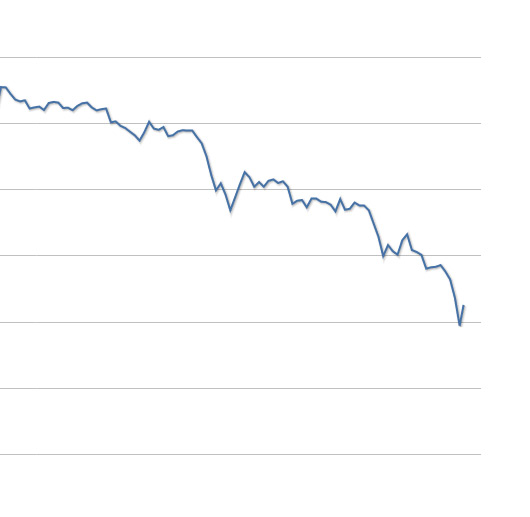 That little uptick at the end is the only bright spot in bitcoin trader's day
Clearly over the weekend someone decided they had had enough and it was time to cash out. You'd expect massive fluctuation with nearly $10 million worth of bitcoins being made available all at once, however, as this Reddit thread does a good job of explaining, the seller in question created a sellwall for his bitcoin, blocking its price from fluctuating from the sale price of $300 per. Once that sale was over however, there was a dive in pricing to the new recent lowest (since the currencies early days) of $294.
This is horrible news for not only those holding bitcoin they purchased at a higher rate, but it's not good news for miners either, who are already struggling to remain profitable following on from the massive hardware investments they've had to make to churn through enough numbers to offset their ridiculous energy bills.
The price is however now recovering a little and at the time of writing a bitcoin is worth $325.
KitGuru Says: Until bitcoin settles at a value that doesn't fluctuate on a day to day basis by such large margins, it's not going to see the mainstream acceptance it will need to become a truly viable investment or currency. That said, it's continuing its march to popularity and is being traded more than ever before, so it's heading in the right direction at least, even if the value isn't.