As ridiculous as the idea of a sword that can do a little more damage at point blank range by having a revolver in its handle is, it was still the most badass thing that I'd ever seen when I first played through Final Fantasy VIII in the late 90s. Combine that with the – at the time – simply astonishing CGI cut scenes and that game won me over big time. That was until I lost all my decent cards on the god damn 'random' rule. That aside though, the Gunblade itself was an awesome piece of kit and now those Youtube attention grabbers at Man at Arms have made one from real steel.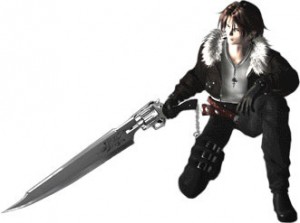 Contrary to the tradition set out by other Final Fantasy games, Squall's gunblade wasn't too ridiculously big
Yes the format and styling is a little over the top American, but what's on display is still impressive. Using a CNC Plasma Cutter, the guys at Baltimore Knife and Sword, cut the frame from 3/16″ 'chromoly' steel, a type that's very hard and light, though it's not easily welded.
[yframe url='http://www.youtube.com/watch?v=-GgijhlKbSc']
That thing really cuts nicely too. Some of the weapons these guys have made in the past have some flex to them or wobble at the cut, but since this one isn't too long it seems to hold up nicely.
Discuss on our Facebook page, HERE.
KitGuru Says: Ok so the final version can't shoot, but there's only so far that the real world can take us. From there you just have to use your imagination. Just wave it around and go "pkow," "blam."