Bittorrent Inc, the company behind the uTorrent client and some of the Bittorrent Bundles of the past couple of years, recently released Radiohead singer Thom Yorke's latest solo album through a paywall protected torrent, in an effort to show that peer to peer networking can be used as a legitimate distribution platform. The release went so well, that Bittorrent Inc. is now hoping to receive approval from the RIAA to become an official music sales platform and thereby contribute to chart sales numbers and industry awards.
The album, titled Tomorrow's Modern Boxes, has "sold" over 700,000 times in just a few days. That does include free downloads of the few sample songs, as well as the full album purchases though. If even 10 per cent of "buyers," spent the $6 required to download the full eight tracks, Yorke hasn't exactly done poorly.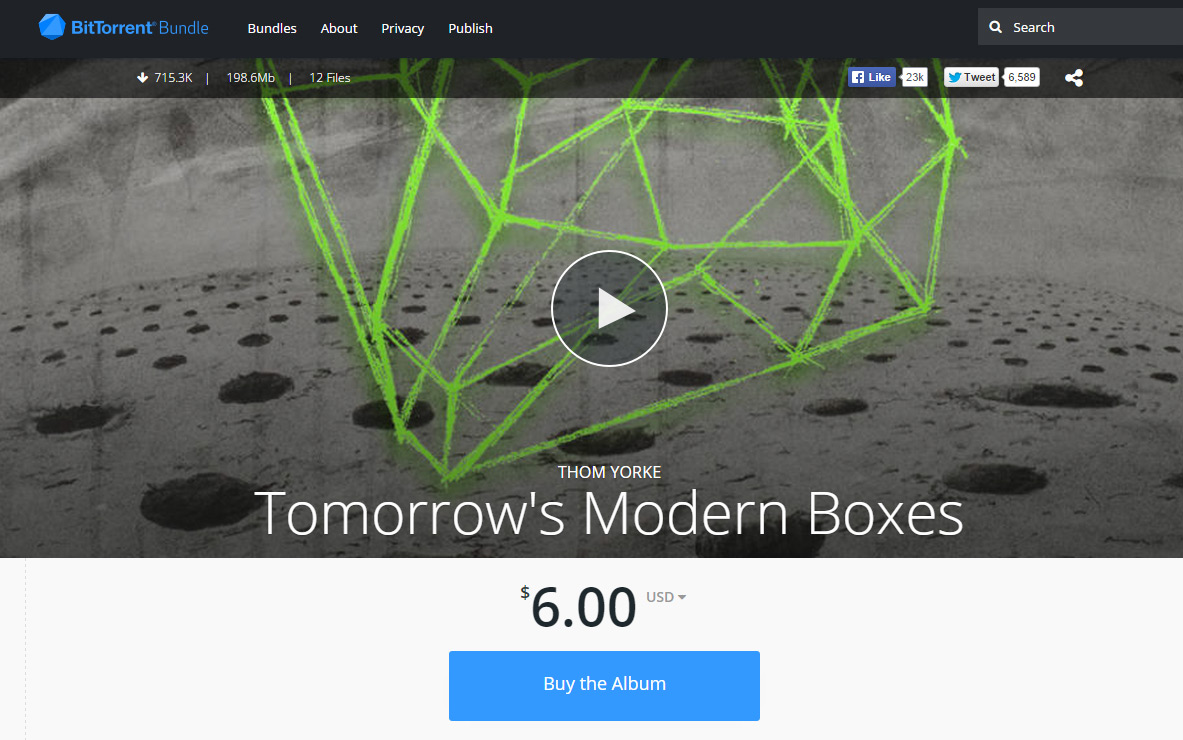 Bittorrent Inc. knows how many were actually sold, but apparently Yorke has requested it keep quiet about it for now. What it isn't staying hush over though, is what it has planned for the future.
"Our vision is absolutely that Bundles will count toward all the usual industry accolades and charts. Again, it will be up to the publisher of the specific Bundle. But the numbers certainly merit the recognition," Bittorrent's Christian Averill told TorrentFreak.
The RIAA, for all of its faults, was more than willing to accept this too. In a statement it said that as long as music sales are properly reported to record labels and involve a customer paying for the content through a subscription, single payment or advertising "payment," then the RIAA was willing to count it.
For full RIAA certification though, Bittorrent Inc. will need to be audited, which is something few would expect Bittorrent Inc. to push for, but if it wants to be considered a legitimate platform for music sales, it will need to bite the bullet.
Discuss on our Facebook page, HERE.
KitGuru Says: Do you guys think Bittorrent Inc. will be happy for its affairs to be looked over? Or will it steer clear of that for now in-case it is accused of having benefited financially from piracy?