Alright you Primitive Screwheads, listen up! You see this? This… is an Evil Dead TV show that's going to reunite both original movie actor Bruce Campbell, with the film's Director, Sam Raimi, later known for  the early 00's Spider Man movies and Drag me to Hell.
Slated for release on the US based STARZ network some time in 2015, the series, titled Ash vs Evil Dead, will pick up 30 years after the original movie, presumably side stepping the comedy focused outings of the sequels considering Ash didn't end up in a particularly great predicament at the end of the third movie (unless we're talking S-Mart endings). Regardless of how he gets there though, in this new series Ash (Campbell) suddenly has to save the world from a Deadite invasion, once again.
He better head to the sporting goods aisle and see if there's a spare boomstick lying around.
`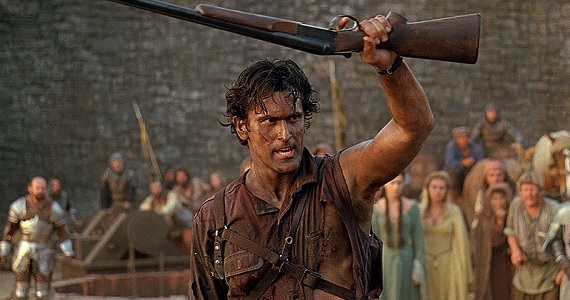 Hail to the King baby
However, whether it follows the first or third movies, the series will take some of the more humorous elements introduced in the latter Evil Deads.
"I'm really excited to bring this series to the Evil Dead fans worldwide – it's going to be everything they have been clamouring for: serious deadite ass-kicking and plenty of outrageous humour," Campbell said of the news.
Raimi added: "Evil Dead has always been a blast. Bruce, Rob, and I are thrilled to have the opportunity to tell the next chapter in Ash's lame, but heroic saga."
While Campbell did have a small cameo in the 2013 reboot of the Evil Dead series, when filming begins on this new series it will be the first time he's played the character in over 20 years – if you discount the video game voiceovers. Here's hoping he's still got that Campbell swagger.
Discuss on our Facebook page, HERE.
KitGuru Says: The question is, will he remember the lines? Last time someone tried to get him to remember just three, things didn't go so well.