The Do Not Pay bot is being reconfigured and reborn as a new friend of the homeless. The legal aide could help those currently without a home apply for emergency accommodation with their local council and may even put them in touch with relevant charities in the future.
Do Not Pay was a chat bot created by 19 year old Joshua Browder, which helped people draft letters to avoid paying erroneously given out parking tickets and to claim refunds on missed or delayed flights. It did this by automatically generating form emails based on information given by the users and ultimately helped more than 160,000 of them.
Now that same AI chatbot system is being leveraged to help the homeless. Browder said in a chat with the Washington Post, that the reason he changed the bot to have additional function was because he received so many requests from people who were facing eviction or foreclosure.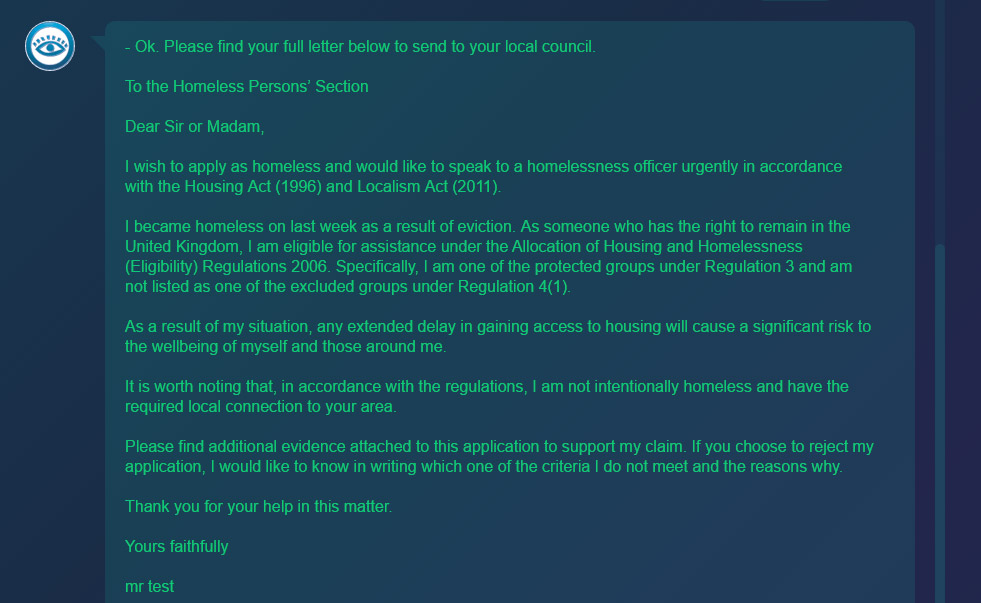 An example of the kind of emails that DoNotPay can write for you. 
Although the DoNotPay site does not advertise its ability to help with homelessness on its home page, mentioning anything about it to the chatbot will cause it to begin asking questions about your living situation and whether it's safe or not.
It also asks questions about your current situation and whether you or anyone living with you is pregnant or ill. Once they have all been answered, it spits out a form which could either be sent via email or posted as a letter. It sounds quite official, citing specific legal rights and acts that pertain to your current situation.
Moving forward, Browder says he hopes to begin working with housing charities to offer more options to the newly homeless. Already he has drawn the interest of Centrepoint, which focuses on young homeless people in the UK.
Its head, Gaia Marcus praised the chatbot tool, saying that its understanding of social issues as well as legal grounding was very important. As it stands, only around 10 per cent of young homeless people have contacted their local council and he hopes Do Not Pay can help to change that.
Discuss on our Facebook page, HERE.
KitGuru Says: This really is a neat little tool. It's these sort of life-augmenting AI's that I want to see more of, they have the potential to help so many people.