How much does a pint of Koppaberg cider cost? A few quid? $5? How about 0.0093 bitcoin. At least that's what it'll set you back if you go to the Baggot Inn in Dublin, Ireland, which has just joined the select few drinking establishments around the world that accept bitcoin as payment.
The first pint was poured on Tuesday night, where supporters of the digital currency brought along tablets and smartphones in order to make payments, sending small amounts of the currency to the Baggot Inn owners and spending over £140 throughout the evening.
"The idea came up in early January and we looked into doing it," said Chris Healey, marketing manager at the pub. "There was a lot of excitement and a great atmosphere in the bar."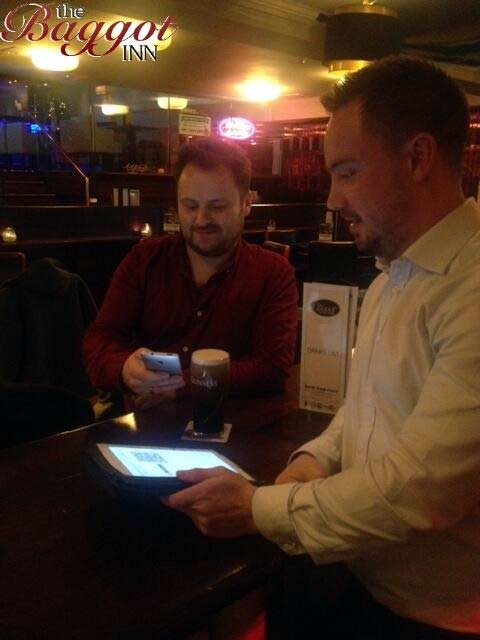 A Baggot staff member seen here taking the first bitcoin payment for a pint of Guinness. Source: @Baggot_Inn
While this isn't the first pub to begin these sorts of payment options, the fact that more and more establishments in the real world are beginning to accept bitcoin as a payment option is a big deal. As cash becomes a less common form of paying for things – due to its many drawbacks – bitcoin could stand poised to replace it as a relatively anonymous alternative. It's also instantaneous, doesn't require a middle man like a bank and can be spent anywhere in the world without fees.
Even better, in this instance though, is that there are no worries with bitcoin price fluctuation, one of the long standing issues for those looking to make use of the currency. The Baggot Inn used a payment provider that automatically converted the coins into euros, ensuring that the pub could accept payments without fear of losing money should the value of bitcoin suddenly fall – as it is wont to do.
KitGuru Says: Bitcoin often gets lumped in with more nefarious uses, but it's really starting to proliferate the real world and looks to continue to do so. Have any of you used bitcoin to buy anything unusual?
[Thanks
IE
]