While the United States has been pretty tight lipped about its ongoing attempts to extradite and imprison internet entrepreneur Kim Dotcom, the German native has been very vocal about his side of the equation. In a recent Q&A on Slashdot, the Megaupload founder even suggested that the U.S. had attempted to offer him a plea deal, but he claims he refused.
During the discussion, Dotcom covered topics as varied as his Internet Party political ambitions, the Trans-Pacific Partnership act and his gaming habits, but it was on the topic of government corruption and his own legal battles that Dotcom broached the topic of a plea deal. He said that the New Zealand solicitor general (operating on behalf of the U.S) offered him the chance to avoid extradition and have the case thrown out, if he would only admit to some basic copyright liability.
"I told my lawyers that I'm innocent and that I'm not interested," he said. "The next thing you know, the Attorney General of New Zealand offered my main NZ counsel a job as a judge."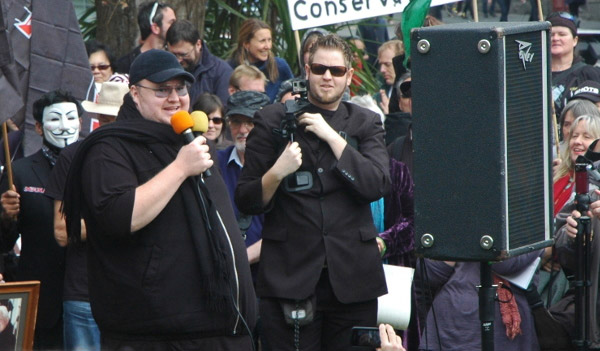 This level of alleged corruption is the reason why authorities have been so aggressive with his case, Dotcom claims, pointing out that when Megaupload was shut down 220 people lost their jobs and under the intense pressure, Dotcom co-defendant and Megaupload programmer Andrus Nomm, voluntarily flew to the US, presumably to hand himself in.
"I'm dealing with an unethical system that is willing to rig the game just to win," he said. "This case is toxic. [The Department of Justice] knows I'm not a criminal copyright infringer."
The reason it continues to be dogged however, Dotcom claims, is because as it stands, those U.S. and New Zealand legal entities could be liable for the destruction of his business, if he is eventually found not guilty. If he accepted a plea deal, that culpability would disappear he said.
In a chat with the NZ Herald, he said that shortly after the election, where Dotcom made a stink about mass surveillance and forced the eventually re-elected John Key to answer many uncomfortable questions, he was offered for the entire case to be dropped, if he left New Zealand for good.
But again he refused. Dotcom has said that he sees only one end game: "drop the charges, say sorry, return seized data to Megaupload users and then pay damages."
Discuss on our Facebook page, HERE.
KitGuru Says: Although we cannot of course verify the claims made by Dotcom here, it's impressive that he's still so adamant that he will come out victorious. It would be quite an amazing turnaround if the U.S. did eventually have to apologise, but you have to imagine that that is quite the pipe dream.
Image source: Wikimedia