As you are probably well aware by now, Windows 10 launched last week, with 14 million people installing the update on day one. This time around, Windows 7 and Windows 8 users got a free upgrade to Microsoft's latest OS, though even if you use the upgrade tool rather than doing a clean install, Windows 10 will wipe your previous default program choices.
It turns out that Firefox maker, Mozilla, isn't too happy about that. In a blog post and open letter to Microsoft CEO, Satya Nadella, Mozilla's CEO, Chris Beard, goes over the company's concerns, stating that it now takes users "twice the number of mouse clicks" in order to get their default browser choice back.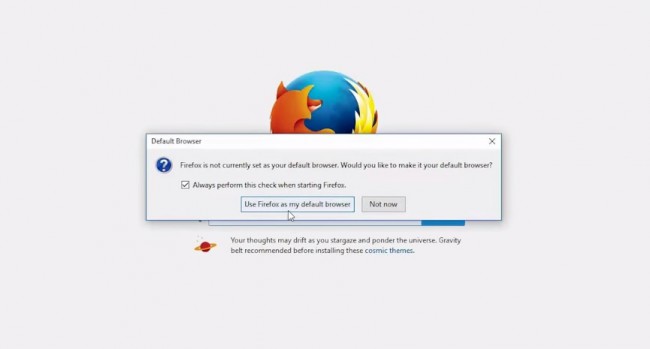 [yframe url='http://www.youtube.com/watch?v=mEUekKqLJ-E']
According to Beard, the new approach is "confusing, hard to navigate and easy to get lost [in]". Most users don't really have anything to worry about, the first time you launch a new browser it will ask if you would like to set it as the default, clicking this will bring you to a default programs window, where you can set the default media player, web browser among other things.
Prior to the launch of Windows 10, Mozilla did contact Microsoft to explain its concerns but it "didn't result in any meaningful progress". Mozilla's post wraps up by urging Microsoft to "respect people's right to choice and control of their online experience".
Microsoft has since responded with a statement (via: The Verge), saying that: "During the upgrade, consumers have the choice to set defaults, including for web browsing. Following the upgrade, they can easily choose the default browser of their choice. As with all aspects of the product, we have designed Windows 10 as a service; if we learn from user experience that there are ways to make improvements, we will do so."
Discuss on our Facebook page, HERE.
KitGuru Says: I didn't really think anything of it when I had to reset my default browser in Windows 10, though I do wonder if other people were as annoyed by the change as Mozilla appears to be. Were any of you annoyed that you had to reset your default browser when updating to Windows 10?