Driving over rough terrain, or simply not bumping the curb can be hard sometimes, especially if your car is quite low slung or has a long, extended bonnet, simply because you can't see what you're doing at the front end. However Land Rover has been showing off a new concept at the International Motorshow in New York, that gives you a view of the ground under your engine bay using some clever camera tricks.
Cameras on the grille of the vehicle record the ground as you approach, so as you drive over it, the heads up display on the windscreen can give you an idea of what's underneath the front end of your car.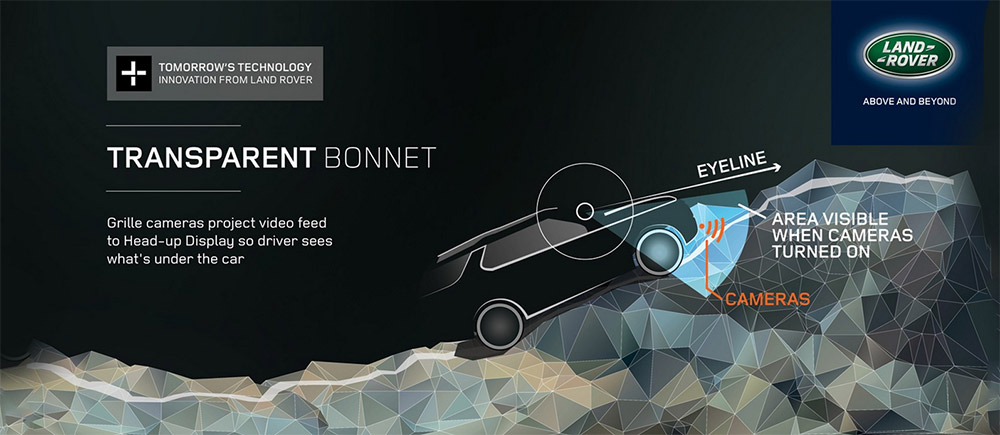 .
The first idea to make a glass bottomed 4×4 was quickly rejected
While this technology is still in the conceptual stage, Land Rover did go ahead and make a video of what it would potentially look like if it had a working version already:
[yframe url='http://www.youtube.com/watch?v=L7j1daOk72c']
However this isn't some postulated future tech, but something that Land Rover is actively developing. While it's been quite coy about the status of the technology and what sort of hardware it uses, Wired did learn that when development is finished, Land Rover vehicles will be able to see not only what's under the bonnet via the augmented reality HUD, but also the angle and position of the wheels too.
KitGuru Says: The bonnet on my car isn't exactly long, but I wouldn't mind this tech when I'm trying not drive over the curb.