If you hate cleaning your car as I do, then Nissan's latest prototype video will be right up your street. Designated as a "self cleaning" car, essentially Nissan has sprayed down a Note with a hydrophobic and oleophobic material that – according to the video at least – keeps your car completely clean, no matter what dirt and water you drive through.
These sorts of sprays and materials have been available for some time already and are used in commercial products for wind screens to keep water off, or for workman's tools for making sure they don't rust, but this is the first time a car company has stepped forward and added it to one of their vehicles.
[yframe url='http://www.youtube.com/watch?v=UwoGsCAKsxU']
"Washing a car can be a chore – and a costly one at that. In response, Nissan has begun tests on innovative paint technology that repels mud, rain and everyday dirt, meaning drivers may never have to clean their car again," reads the description of the video, posted up on Nissan Europe's channnel.
In-case you can't watch the video above, it features  a standard (and white) Nissan note, with half of it sprayed down with the new paint, while the other is not. The car is then driven through mud, rain and all sorts of other grubby road conditions, with the end result being one side is dirty and the other is almost pristine.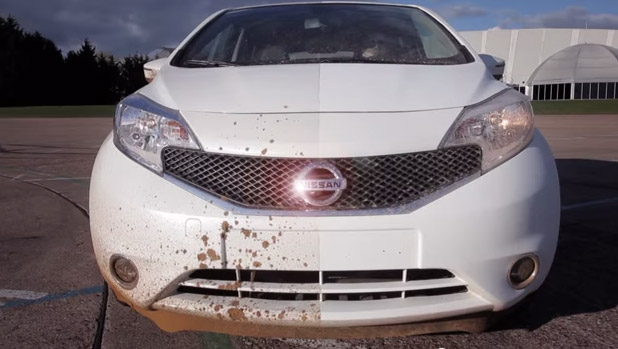 At the moment, Nissan has said it has no plans to make it a standard product in its line up, but it will consider offering it as an upgrade option.
Discuss on our Facebook page, HERE.
KitGuru Says: While it seems likely this will only be available on new cars, it would be nice to have a retrofit option for this. It would save so much faffing.
[Thanks
Wired
]