Advanced Micro Devices on Tuesday unveiled two new families of accelerated processing units with low and ultra-low power consumption. The new chips, previously known as Beema and Mullins, will power thin laptops, 2-in-1s, as well as various Microsoft Windows-based tablets. Unfortunately, the majority of actual devices based on AMD's new chips will only emerge on the market sometimes late in Summer.
AMD "Beema" and "Mullins" APUs will feature two or four x86 cores based on the new Puma+ micro-architecture (out-of-order/speculative execution with two-way 128-bit wide floating-point and packed integer execution) that closely resembles Jaguar and supports numerous new instructions previously only available on high-performance x86 micro-architectures. The Puma micro-architecture further optimizes power consumption compared to previous-generation Jaguar cores; for example, AMD claims that Puma sports 19% lower CPU core leakage.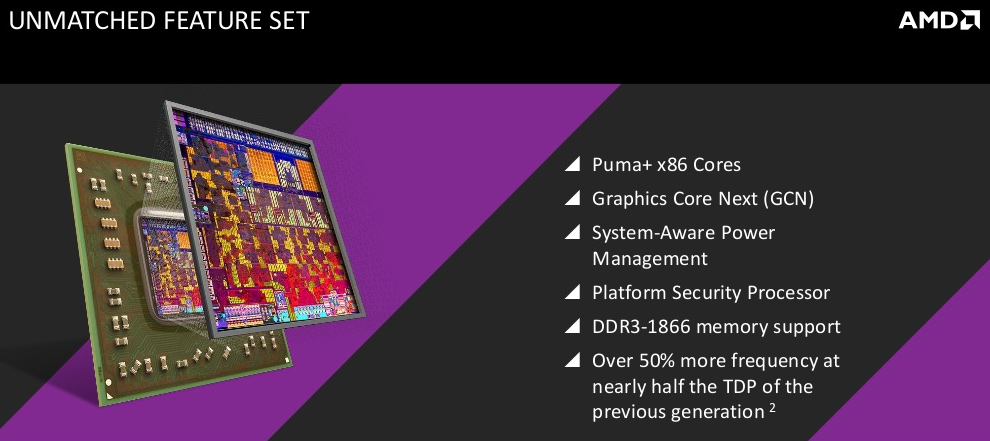 The new highly-integrated chips also feature improved AMD Radeon graphics cores with GCN architecture and 128 stream processors; according to AMD, the new GPU features 38% lower leakage.
The new APUs also feature chassis temperature aware dynamic overclocking as well as selective boosting according to application needs, which should provide enhanced performance in cases when it is really needed.
The new APUs also feature AMD-developed platform security processor based on the ARM Cortex-A5 featuring ARM TrustZone technology for enhanced data security.
Just like predecessors, the new low-power APUs from AMD will rely on single-channel DDR3 memory controller, which power consumption was also lowered compared to its ancestors.
The new APUs also support a bunch of proprietary AMD technologies, including AMD Enduro (that enables longer battery life); AMD Start Now (quick boot-up and resume from sleep mode; AMD Quick Stream (virtually uninterrupted streaming video); AMD Perfect Picture (boosts image quality automatically for enhanced color, contrast and resolution), AMD Steady Video and so on.
"When designing our 2014 Mainstream and Low-Power APUs, we were determined to once again set the standard in graphics and total compute performance in fanless form factor categories – and we've done just that," said Bernd Lienhard, AMD corporate vice president and general manager of client products at AMD. "These processors combine the latest core technologies – including the first-ever ARM-based security solution on an x86 processor – with user experiences that will delight consumer and commercial buyers alike in a package that's impressively energy efficient."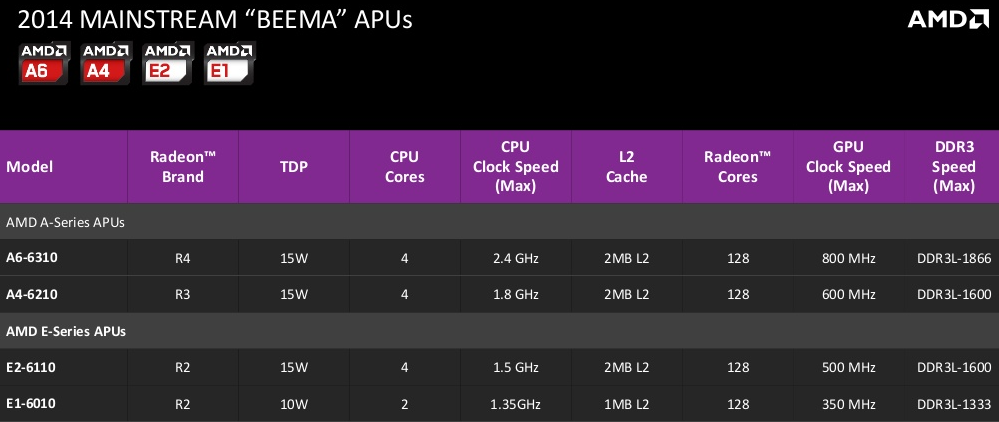 The initial A-series APUs code-named "Beema" have 10W – 15W thermal design power and will target low-cost/low-power laptops. The frist A-series Micro APUs code-named "Mullins" chips have scenario design power at 2.8W and up to 4.5W thermal design power. The "Mullins" is aimed at tablets, 2-in-1s and other ultra-low-power compute devices. Both chips are made using 28nm process technology.

Products based on these new APUs are already announced by Lenovo and Samsung, with many more expected on-shelf in time for the 2014 back-to-school shopping season.
Discuss on our Facebook page, HERE.
KitGuru Says: Looks like mass availability of devices based on "Beema" and "Mullins" will occur somewhat later than expected.