Popular dating and matchmaking site OkCupid has taken a bold stance against Mozilla's new CEO, Brendan Eich, after it came out that he gave financial support to Proposition 8 in 2008, which tried to overturn the right for gay people to marry in California. Now the dating site has essentially blocked Firefox users from visiting it, instead greeting them with a letter asking them to use another browser in solidarity against the man's opposition to equal marriage rights.
"Hello there, Mozilla Firefox user. Pardon this interruption of your OkCupid experience. Mozilla's new CEO, Brendan Eich, is an opponent of equal rights for gay couples. We would therefore prefer that our users not use Mozilla software to access OkCupid," reads the open letter, viewable if you try and visit OkCupid with Firefox.
It goes on to say that while OkCupid isn't in the business of politics, it is in the business of bringing people together and it can't help support a company headed by someone who believes it should be illegal for some people to marry who they want.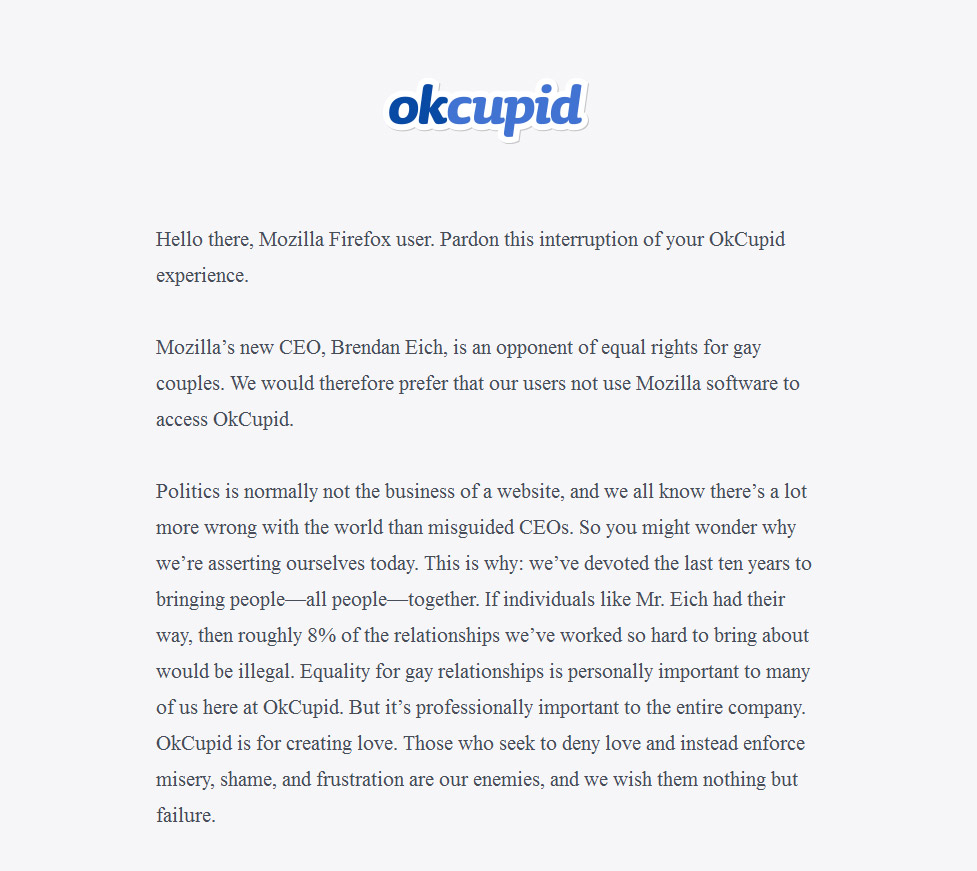 OKCupid co-founder Christian Rudder made it clear that his company wants an apology from Eich and an understanding that supporting bills like Proposition 8 contribute to discrimination.
At the other end of the spectrum though, Eich has received support from many figures in Mozilla and outside it, suggesting that they've never had any negative interactions with him on a personal level and others that have suggested that personal beliefs, that have nothing to do with his work, shouldn't come into the professional world. He has just as much right to support proposition 8 as Mr Rudder has to oppose it.
KitGuru Says: What do you guys think about this situation? There's a lot of worse bigots out there than someone who drops a quick $1,000 on supporting a piece of ultimately failed legislation. And while it's clear that proposition 8 was a dumb bill and Eich's views are outdated, should he really be punished for having them?
[Cheers
Cnet
]