When you're as big as Reddit, with its near 200 million unique visitors, many of whom post content of their own, you're going to get a lot of requests from governments and organisations for user information; and for you to take down allegedly infringing content. Dealing with those requests is a mammoth task, but it's something that the site has explained in its new transparency report.
Throughout 2014, Reddit received 55 requests for user information from entities outside of Reddit itself. Almost all of these came from governments, either from elsewhere in the world or the US. All in all, Reddit didn't give out any information to the five international requests it had for data, though it did respond favourably to 59 per cent of US subpoenas and 88 per cent of US search warrants.
The most interesting stat among that information though, is that 30 per cent of all the civil and US federal requests for information contained a stipulation that Reddit was not allowed to inform the user(s) in question about the data handover. Reddit explained in the report that where possible, its "goal is to give users the information they need to seek legal advice before their records are disclosed. As stated in our privacy policy, we provide advance notice to affected users unless prohibited by a court order or where we decide delayed notice is appropriate based on clear criteria."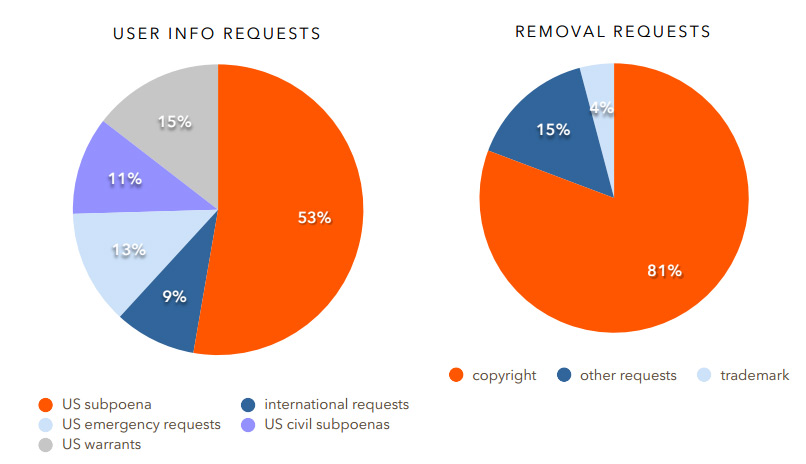 When it came to removing content posted by users – which can run the gamut from everything including inflammatory comments to links to copyright protected material – Reddit takes an equally serious approach, analysing (by hand, not automatically) each request that comes through. All in all, just 31 per cent of all trademark and copyright takedown requests were adhered to.
The report also highlights how many poorly filed, or illegitimate takedown requests were made: in short, a lot. Some failed to adhere to the rules set out by the Digital Millennium Copyright Act, while others demanded entire subreddits be removed , rather than specifying the infringing content.
The site also took a stand against blaming people that link to content as infringers, stating: "Because links do not generally infringe copyright, we exercise extra scrutiny in assessing takedowns for links."
When it came to alleged defamation, Reddit chose not to remove any requested content.
Discuss on our Facebook page, HERE.
KitGuru Says: It's nice to see Reddit standing up for its user base in many cases, which is somewhat surprising considering it is a child property of a giant publishing house.