Reddit, "the front page of the internet," has been going through some changes in the past few months, in an effort to open up some of its decision making and staff dealings. It released a transparency report earlier this year, which gave users an idea of how often it complied with ISP and law enforcement demands and now it's updated its content removal policy. Threads removed by DMCA request or similar, will now have a small message added to the thread so people know just why they were taken down.
Previously, when we removed content, we had to remove everything: link or self text, comments, all of it," the announcement on the site read. It went on to point out that often all that would be left of a censored thread was a notice saying that "Reddit removed this content." Moving forward however, things will be quite difference.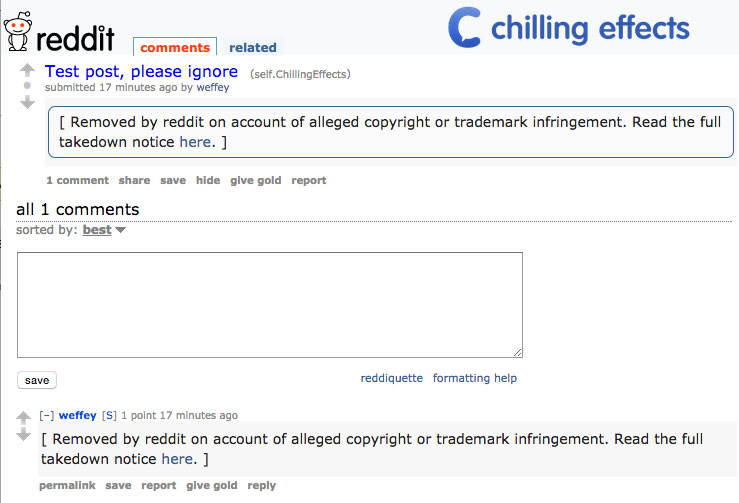 While DMCA requested content will still be removed, anything not legally required for removal, like the comment threads discussing the content, will remain. Admins will also post a short message explaining just why the content had been deleted. It will look a little like this.
On top of that, Reddit will also post a more detailed commentary on the removal on /r/ChillingEffects and on ChillingEffects.org, where other site's DMCA takedown notices are made available.
The idea is to not only reduce disruption on the site – with ongoing discussions not halted because a different part of the discussion was in breach of copyright – but will also provide more detail for people on the kind of content that cannot be posted. On top of that, it will make it obvious if Reddit is ever censoring content without a legitimate purpose, or conversely, prove that that's not what it's doing.
Discuss on our Facebook page, HERE.
KitGuru Says: More transparency from sites seems like a good thing, especially since it will show us how petty some companies can be when it comes to 'protecting' their copyright.