Bill Gates has been running his GatesNotes site for a while now, letting people know what he's reading, his personal thoughts on things and some of the people in his life. In his latest post, we get to take a tour with the Microsoft founder in his Tesla Model X, while he discusses sci-fi novels with author Neal Stephenson.
The video shows the pair meeting, driving around in the fully electric car and talking about Stephenson's new book, Seveneves. In it, we learned that "about two years ago," he just decided to sit down and write the book. Funnily enough, this is right about the time he failed to deliver on Kickstarter pledges for the game CLANG that backers spent over half a million dollars on.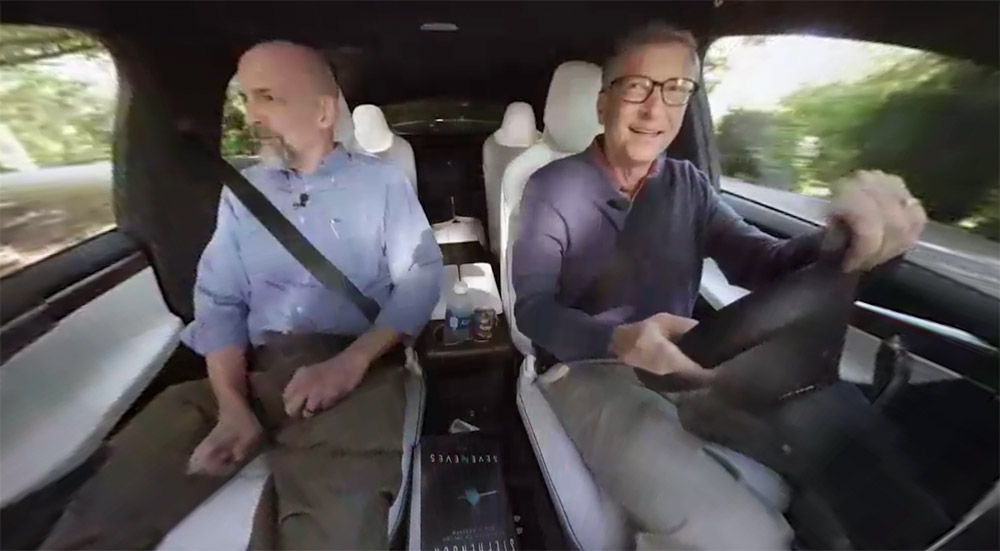 Source: GatesNotes
Still, brushing that aside and into the past, Stephenson and Gates go and grab a burger and just hang out, driving the supremely quiet Tesla as they talk up the new book and discuss what other projects each are working on.
If you'd like to take the 360 degree tour yourself, either on your phone or in a VR headset like Google Cardboard, the Oculus Rift or HTC Vive, head over to the GatesNotes site, as unfortunately we can't embed it here.
Discuss on our Facebook page, HERE.
KitGuru Says: Bill Gates seems like such a charming nerd to spend an afternoon with. I wrote a book Bill. Want to go grab a burger?